Under Colonel Giuseppe de Magistris of the Carabinieri, the NATO Stability Policing Centre of Excellence (SP CoE) is leading an alliance-wide effort to incorporate cultural property protection into Stability Policing. Described as a "new model of peacekeeping," Stability Policing aims to restore the rule of law and protect human rights by reinforcing local and national law enforcement during crisis operations.
The end goal of Stability Policing is to ensure preservation, support impacted communities, cut off criminal and terrorist financing sources, and lay a solid foundation for post-conflict stabilization.
During this unprecedented time of threats facing NATO, cultural property protection is more important than ever because it can reinforce and lay the groundwork for deeper international peace and security efforts. This is particularly important to consider against the backdrop of Russia's attacks against Ukraine, as we explored in a recent policy brief.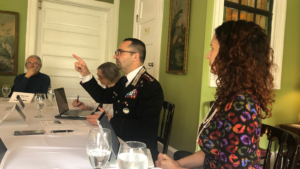 Col. de Magistris recently stressed that NATO SP CoE recognizes the significance of cultural property protection in its efforts to build international peace and security during a closed-door roundtable discussion hosted by The Antiquities Coalition on April 25.
After his remarks, our Executive Director, Tess Davis, led a moderated discussion between experts from the US government, museums, and academia on critical topics raised by Col. de Magistris, such as military and cultural property protection, investigating the looting and trafficking of antiquities, and the NATO SP CoE cultural property network.
The Antiquities Coalition looks forward to its continued partnership with Col. de Magistris and the NATO SP CoE as we work to safeguard the world's heritage from cultural racketeering.