Latest Policy Brief from the Antiquities Coalition Lays Out Roadmap for NATO and Its Allies to Fight Back 
History and cultural heritage have become one of Russia's most effective weapons in its efforts to target the West.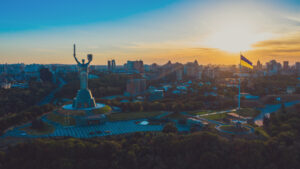 That is the warning from a newly released policy brief from the Antiquities Coalition's Think Tank. Daniel Shultz and Christopher Jasparro provide a detailed case study, illustrating how historical propaganda and the exploitation of cultural heritage has become a central component of the Kremlin's information warfare campaigns, orchestrated from the top by Vladimir Putin himself. Russia has leveraged revisionist histories about Soviet victory in World War II to solidify its identity as a nation besieged, prepare its domestic audience for military conflict, and vilify its opponents as Neo-Nazis deserving of eradication. All the while, the same inflammatory rhetoric is being used to exacerbate tensions with the West by stoking historical grievances, real and perceived, of the Russian people, whether within the country's borders or around the world.
Given the Kremlin's willingness to back these false narratives with violence in Ukraine, the authors argue that the North Atlantic Treaty Organization (NATO) should immediately bolster its defensive posture along its eastern flank, while preparing for an increase in information warfare activity.
When compared with Ukraine, "The striking similarity in historical propaganda narratives targeting the Baltic states implies that the threat to the Baltics should now be considered acute," write Dr. Shultz and Dr. Jasparro. Yet, they add, "NATO and its allies are not sufficiently postured and organized to counter or exploit adversary historical propaganda and cultural heritage exploitation."
Thankfully, there is much that NATO and its partners can do to respond, if they act now. Shultz and Jasparro, experts in the exploitation of history and cultural heritage for propaganda purposes by state and non-state actors, propose five concrete recommendations that can be implemented in the short, medium, and long term. These include raising awareness and building resilience, institutionalizing the threat, exploiting opportunities, effective counter messaging, and avoiding an over-emphasis on history in geopolitical debate.
The consequences are high, not just for NATO, but also for those who are bearing the brunt of Putin's invasion. According to Shultz and Jasparro, "In the case of the conduct of the Ukraine war, historical narratives about Ukraine as an anti-Russian, Nazi-led western puppet without its own statehood and culture have been sufficiently seeded within Russia that the risk of attempted cultural (and physical) genocide in Ukraine is very high, if not already underway."
For a summary and link to the policy brief, click here.