New UNESCO and DCT Report Details COVID-19 Recovery for the Culture Sector
July 19, 2022
The COVID-19 pandemic has led to a significant loss of life, devastating economic impacts, and major disruptions to livelihood. Cultural heritage and our shared history are no exception, with reports of cultural racketeering skyrocketing across the globe over the last few years.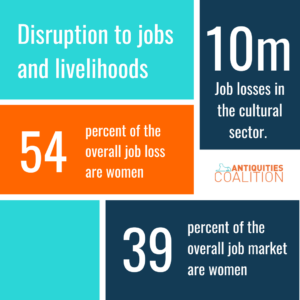 In 2020, the United Nations Education, Scientific and Cultural Organization (UNESCO) warned that this public health emergency would result in a "glut of stolen artifacts" for sale online. Among the extensive list of nations impacted by this illegal trade, Egyptian officials reported that illegal excavations in the country had more than doubled since the outbreak of COVID-19.
New research shows the culture sector experienced a significant decline during the pandemic, with a loss of global revenue from 20 to 40 percent and approximately 10 million jobs lost in 2020 alone. Without individuals to protect and preserve art and antiquities in museums and other sites, cultural heritage faces a greater risk of being looted by bad actors who seek to exploit the global art market.
In response to the growing need for structural change, UNESCO and the Department of Culture and Tourism – Abu Dhabi (DCT) released a new report, Culture in Times of COVID-19: Resilience, Recovery and Revival, to explore key trends and transformations that can boost coordinated multilateral recovery of the culture sector.
Executive Director of the Antiquities Coalition, Tess Davis, and Project Director, Helena Arose, were honored to attend the launch of the report in Abu Dhabi alongside UNESCO and DCT to discuss the key findings and the unique opportunity for lasting change.
The Antiquities Coalition has monitored the pandemic's impact on cultural racketeering and historical sites that have suffered from looting and will continue to support research and recovery efforts that aim to build an inclusive, sustainable, and resilient culture sector for years to come.