COVID-19 and Cultural Racketeering
August 5, 2020
As the COVID-19 pandemic continues to rage, cultural heritage sites and museums are devoid of tourists and security staff are at a minimum, making them a prime target for looters and thieves. Compounding the problem, the dearth of tourism puts jobs and livelihoods at these sites at risk—and with the art market moved entirely online, buyers are just a click away.
In May, the Antiquities Coalition explored how COVID-19 was impacting the antiquities black market, warning both supply and demand are likely on the rise. This update further illustrates how COVID-19 and its economic fallout may have a lasting impact on the global trade in cultural property. 
"Glut of Stolen Artifacts" For Sale Online
As the world went into lockdown, archaeological watchdogs warned there was a marked increase in the activity of online antiquities traffickers taking advantage of the crisis. The Antiquities Trafficking and Heritage Anthropology Research Project reported an increase in posts to online groups dedicated to looted artifacts over March and April. After this surge, Facebook and Instagram banned the sale of cultural heritage and historic artifacts on June 23. 
On July 1, UNESCO sounded the alarm that COVID-19 and the lockdown would result in a "glut of stolen artifacts" for sale online. The warning followed the discovery of an organized antiquities trafficking scheme using fake UNESCO permits to sell stolen African cultural heritage.
Diversifying their business model from the trade in cultural heritage, the same illicit traffickers are also trading Personal Protection Equipment on the online black market, including face masks and COVID-19 testing kits. 
Lockdown Looters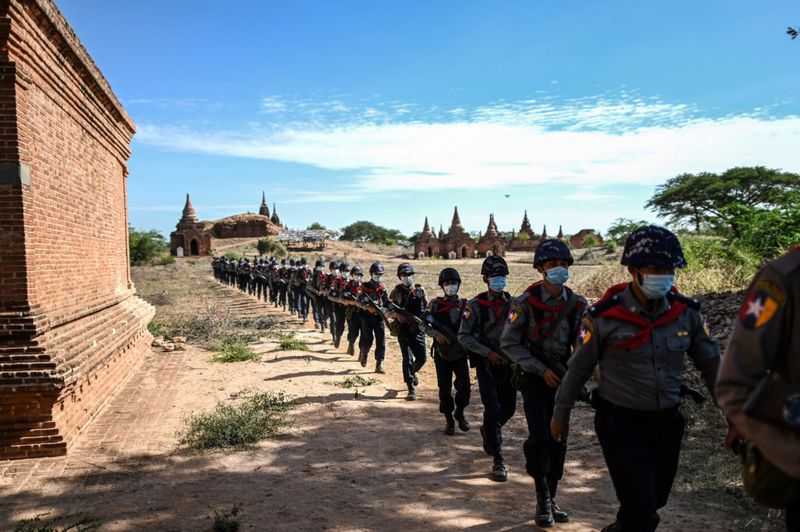 Opportunistic looters continue to take advantage of empty sites to commit crimes. In Myanmar, the absence of tourists at the sacred ruins of Bagan made the temples a target for looters, with thieves stealing copper stupas, ancient coins, and jade jewelry in June. While Myanmar has since increased the amount of security at the site, Deputy Director of Bagan's Archaeological Department Myint Than put it bluntly: "When there were tourists here, there were no burglaries."
Even as museums and sites gradually begin to reopen, targeted thefts continue. In early June, the Museum of Anthropology in the Iranian capital Tehran was "cleaned out" by a thief who hid in the museum until closing and then removed $715,000 worth of artifacts overnight. Thankfully, the thief was later arrested and the artifacts were recovered by law enforcement. And, in a sign that cunning criminals are using the pandemic as a cover, a thief dressed in a hazmat suit attempted to steal a Banksy painting that was installed in a U.K. hospital.
Metal detecting, marketed as a safe activity to participate in during the pandemic, remains a threat to antiquities. The U.K. Government deemed it necessary to release a "Guidance on searching for archaeological finds in England during COVID-19" in order to ensure first-time detectors are following the law appropriately. 
Cultural Heritage Sites Remain At Risk
Cultural heritage sites around the world have been hit hard by impacts from the virus. UNESCO reports that 66% of World Heritage sites remain closed or only partially open as of June 15. Between these closures and the wider impacts of COVID-19 on the travel industry, cities and communities whose economies depend on tourism and World Heritage sites are suffering. For example, in April, visitors to World Heritage sites in Southeast Asia declined 99%, threatening jobs and income. 
Restoration, rehabilitation, and general care of cultural heritage sites has also largely halted due to the impacts of the virus, in places such as Mali, Afghanistan, and Spain. At the Mosul Museum in Iraq, reconstruction of the Ishtar Lion that was destroyed by Daesh (ISIS) in 2015 is also on hold. With lockdown lengths indefinite, there is no estimate for when these projects can resume, leaving sites and artifacts vulnerable and at risk for further damage. 
However, those with the means are using the time and space created by the lockdown to attend to cultural heritage sites. For example, officials in Egypt are deep cleaning the pyramids and carrying out necessary maintenance work while tourists are absent.
Impacts on Museums Worsen
The impacts of COVID-19 on museums, in the U.S. and around the world, continue to worsen. According to studies conducted by UNESCO and ICOM, the pandemic has caused 85,000 museums worldwide to close temporarily, with 13% under threat of never reopening. Museums in African, Arab, and Pacific countries will be disproportionately affected, exposing worrying inequalities in the current and future global museum landscape.
The closures have had severe financial implications. Over the course of June and early July, 17 American museums cut nearly 1,500 jobs, citing lack of revenue. 
The museums that are beginning to reopen are facing a new reality. For example, the Palace Museum in China which opened on May 1 now has an attendance cap of 8,000 visitors per day, just 10% of the museum's normal 80,000 daily visitors. At the Berlinische Galerie in Germany, which opened May 11, the public can only visit in groups of two, unless they belong to the same household. While in the gallery, visitors must practice social distancing and wear masks. The Louvre, which reopened after its longest closure since World War II on July 6, sold only 7,000 tickets, far below their normal 30,000. 
The Art Market 
As previously reported, COVID-19 has also hit the art market hard. Galleries across the globe have reported an expected 72% loss in annual revenue, while 33% say they will not survive the crisis. Major art fair cancellations and extended closures have likewise led to budget cuts and staff layoffs.
"This is the second major recession that businesses have had to face in just over a decade," noted Claire McAndrew, author of the renowned annual global art market analysis The Art Market. While it remains too early to predict the impact of COVID-19 on the art market, she says there are lessons to be learned from the 2008 Financial Crisis, from which the art market rebounded strongly. 
Art dealers are turning to online sales as the pandemic continues to prevent buyers from purchasing in-person. Art Basel launched online viewing rooms, and Christie's announced that 64% of its global clients bought or bid for items online. The trend towards online sales presents unique challenges to proving authenticity and building trust between buyers and sellers. Risk of damage during shipment, defective art, stolen art, and fakes increase significantly in the online market, where a collector (and even small auction houses) cannot know the authenticity or the title of a piece of artwork that they are buying.  
However, one positive side effect of the art market's transition to online platforms has been price transparency. When Art Basel ran its online viewing room in March 2020, one of the mandates was that every gallery had to post a price, a development that experts thought would take years to come to fruition.  
Art Loans and Guarantees
The June arrest of fugitive art dealer Inigo Philbrick provides insight into how COVID-19 is affecting both art loans and guarantees. Philbrick is charged with being in default of $14 million from Art Loans Finance, among other charges, and is returning to New York after his arrest in Vanuatu.  
As the market struggles and prices lower, those who trade on loans against art could find it difficult to pay what they owe. In addition, the practice of providing or betting on an auction guarantee may be risky, as the economic realities mean the possibility of no one bidding. 
That said, overall, "a bad year for art is looking like a good year for art-backed loans." Even before COVID-19, Deloitte estimated that some $21–24 billion was tied up in art loans worldwide, a sum that has only increased with the pandemic, as "bankers are standing by to lend the world's billionaires some cash, using their art collections for collateral." Unfortunately, criminals may take advantage of this situation, since regulatory loopholes still exempt art market actors from the U.S. Bank Secrecy Act (the country's primary anti-money laundering legislation). 
Stay tuned to the Antiquities Coalition for future updates on this and all the above challenges facing our cultural heritage from COVID-19.