One Year Later: COVID-19 and Cultural Racketeering
March 11, 2021
One year ago today, the World Health Organization declared that it had recognized the international outbreak of the novel coronavirus disease 2019 as a global pandemic. The COVID-19 virus continues to spread and affect millions around the world. While an end may be in sight due to vaccination developments, the number of cases and deaths globally have reached devastating numbers. 
The Antiquities Coalition has continued monitoring the impact of the COVID-19 pandemic on the market in arts and artifacts—licit and illicit—as well as the arts and culture sector more broadly. This update follows our posts from May and August 2020, further demonstrating how COVID-19 continues to put cultural heritage at grave risk, while also affecting the global trade in cultural property.
Sites Suffer Worldwide as Vandalism and Looting Continue
Antiquities at sites in museums worldwide continue to be at risk due to the pandemic. In November, Ernesto Ottone, assistant director general for culture at UNESCO, summarized the current moment: "more looting, less information, fewer missions, fewer controls."
Around the world, looting, trafficking, and vandalism have continued. In South America, guards discovered a break-in at the Cañete Mapuche Museum in Chile, where thieves had stolen more than 100 Mapuche silver, fabric, and stone artifacts. The September theft revealed a potential black market for South American indigenous material. In Europe, on October 3, vandals attacked several of Berlin's major museums, hitting about 70 artifacts across with an oily substance, which German media has linked to "a conspiracy theory propagated by coronavirus deniers." The perpetrators have not been caught. In the Middle East, also in October, reports in Iraq indicated a "renewed wave" of site looting due to the economic crisis compounded by the COVID-19 pandemic. Al-Qadisiyah University Archaeologist and Assistant Professor Salah Hatem remarked, "Unquestionably, the pandemic and the economic situation, which was worsened by the pandemic, caused a surge in looting activity in Iraq." In Southeast Asia, photos published in October documented devastating illicit digging for beads and small scale antiquities in Myanmar. 
Incidents have continued as the year drew to a close. In November, a judge working in the judiciary of the Syrian government in the city of Homs was arrested for smuggling antiquities including small statues, pottery, and engraved panels. In December, a woman was arrested in Greece for looting amphorae pieces, thought to have come from Knidos. Later that month, Egyptian officials reported that illegal excavating in the country had more than doubled this year since the outbreak of COVID-19. The interior ministry reported 8,960 cases of illegal digging from March through November, up from 4,115 cases during the same time frame last year. 
In France, a man was accused of being "one of the greatest archaeological looters in European history" after French officials found over 27,000 objects during a raid on his home. The objects included ancient coins, jewelry, statues, and more.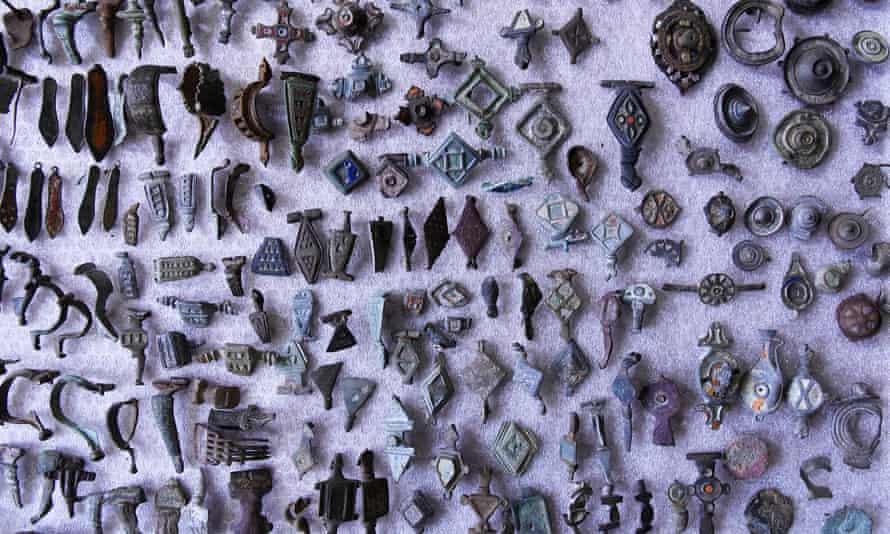 Antiquities looting has also occurred in the United States as when $11,000 worth of artifacts were stolen from the Mud Island River Museum in October. The museum, located in Memphis, Tennessee, has been closed throughout the pandemic. Park rangers have also noticed an increase in illegal digging for artifacts in Arkansas, leading them to publish a warning in early November that looking for antiquities on public property is illegal.
This phenomenon has extended beyond antiquities—a wave of WWII memorabilia thefts have swept European museums in recent months. In August, thieves broke into the Eyewitness Museum in the Netherlands, taking with them $1.75 million worth of historic artifacts. An October theft of more than $1 million worth of historic artifacts from the Oorlogsmuseum in Ossendrecht, including 23 mannequins dressed in uniforms, followed. In November, thieves stole 20 Nazi artifacts from the Deutsches Museum Nordschleswig in Sønderborg, Denmark.
Struggling Museums in Crisis Around the Globe
Across the United States, some museums have reopened at reduced capacity, but virtually all are now facing huge financial challenges. In New York City, where museums are open at 25% capacity, the picture is dire. The ability for institutions to survive will depend on the size of their endowments, government funding, and limited ticket sales. Museums in the Twin Cities, facing a significant drop in attendance even below the 25% capacity, are carrying a relentless financial burden that may lead to closures. In Europe, struggling museums are shutting down again in accordance with a second wave of lockdowns in countries where cases are rising. With plans to reopen unknown, the fate of European museums remains uncertain. In November, Scotland's representative bodies for museums warned that many Scottish museums will not make it through the pandemic.
With the overall functioning of museums in crisis, the day-to-day operations of museums have been hit hard. Museum conservators have been unable to travel to work on objects that need care and attention, leaving them at risk for further damage. And the picture remains bleak. Laura Lott, President and CEO of the American Alliance of Museums was quoted: "Depressingly, I think 2021 is going to be as hard, if not harder, than last year."
The Art Market Faces Challenges and Opportunities
Art Basel's 2020 mid-year survey of "The Impact of COVID-19 on the Gallery Sector" shed light on many of the challenges the market is facing due to the pandemic. The survey showed that the average value of sales fell 36% during the first six months of 2020, compared to the same time period in 2019. In addition, a third of galleries reported that they downsized their staff in the first half of 2020. 
The survey also indicated some new opportunities for the market. The share of online sales rose from 10% in the first half of 2019 to 37% in the first half of 2020. Also, high net worth (HNW) collectors remained active, with 92% having purchased a work of art in the first six months of 2020 despite the pandemic. 59% of surveyed HNW collectors indicated that the pandemic has increased their interest in collecting. 
In fact, Sotheby's and Christie's closed 2020 with $5 billion and $4.4 billion in global sales respectively, both setting records for online and private sales. 
Other gallerists echoed the boom in sales. Los Angeles gallerist François Ghebaly was quoted saying, "The market is raging." He added that 2020 was his best year ever in sales and profits.
Moving Into 2021
As 2020 ended and the new year began, and vaccinations begin to be administered, there have been some positive developments in the world of art and antiquities: 
Looking Ahead
Thanks to international vaccine rollout efforts, we can finally see the end of the COVID-19 pandemic on the horizon. Unfortunately, though, herd immunity will not mark the end of the art world's pandemic woes. Inevitably, months of neglect will have led some cultural heritage sites to suffer permanent damage, months of lost revenue will prevent many museums from ever reopening their doors to the public, and months of unchecked looting and theft will have resulted in an untold number of antiquities being lost to cultural racketeers.
That said, the arts and culture have proved to be resilient through crisis after crisis, and COVID-19 will be no exception. It may take time and, indeed, there may be no returning to the "normal" we knew prior to this pandemic. But there may also be new opportunities—for heritage to be part of the post-COVID financial recovery and to contribute to the rebuilding of both local neighborhoods and the global economy. And its value will go far beyond dollars: in a post-COVID landscape—with the world starved for human contact, education, and entertainment—the arts and culture will be needed more than ever.