2022 ASEAN Declaration Commits Southeast Asia to Combating the Illicit Trade in Cultural Heritage
November 18, 2022
Leaders' Statement Follows Joint Initiative Between the Antiquities Coalition and Cambodia
Leaders of the Association of Southeast Asian Nations (ASEAN) have released their 2022 Vision Statement as part of the organization's 40th and 41st Summits, held from November 10-13 in the Kingdom of Cambodia, this year's Chair. This declaration has included an unprecedented pledge by all ten Member States to combat the illicit trade in art and artifacts, a transnational crime that is threatening the region's rich heritage, local communities, and national economies. Specifically, as part of a broader commitment to promoting global cooperation and peace, it urges ASEAN governments to:
ENHANCE the contribution of culture and the arts to promoting sustainable development through support for cultural and creative industries, as well as cultural property protection and preservation against cultural losses due to illicit trade and trafficking, climate change, and human-induced and natural disasters. 
This vision statement reinforces Cambodia's Chairman's Statement from the Summit, as well as recommendations developed during a high-level international conference held from September 5-8 in partnership with the Antiquities Coalition and ASEAN. In addition to the organization's Member States, "The Prevention of the Illicit Trafficking of Cultural Properties: An ASEAN Perspective" also brought together international law enforcement, museum leaders, and private sector representatives in Cambodia to develop priorities for the region. Published on October 5, the event's ambitious roadmap urges ASEAN to take concrete action against cultural racketeering, including the creation of a regional working group, a multi-year action plan, and an annual convening on the subject.
Cambodia and the United States, where the Antiquities Coalition is based, have worked effectively together for decades to preserve and protect cultural heritage. Over the last ten years, U.S. authorities have partnered with their Cambodian counterparts on a number of criminal investigations and prosecutions, resulting in tens of millions of dollars worth of repatriations to the kingdom. These include one of the world's "Ten Most Wanted Antiquities," a monumental sandstone sculpture of the elephant-headed god Ganesha, which was returned to Cambodia in August along with 29 other masterpieces.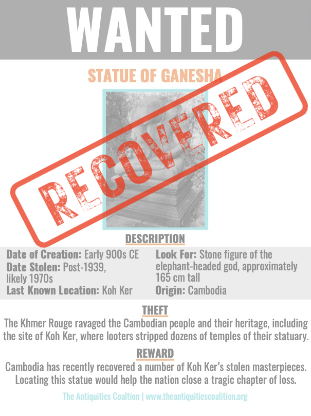 During the separate U.S.-ASEAN Summit, also held in Cambodia on November 12, Prime Minister Hun Sen thanked President Biden directly for this work and called the United States the world's "number one" country for recovering and returning stolen art to Cambodia. The U.S. and ASEAN further cemented their strategic partnership with a joint statement that also showcases a shared commitment to cultural preservation, by agreeing to:
BUILD people-to-people connectivity within the region and beyond by […] promoting and protecting cultural heritage.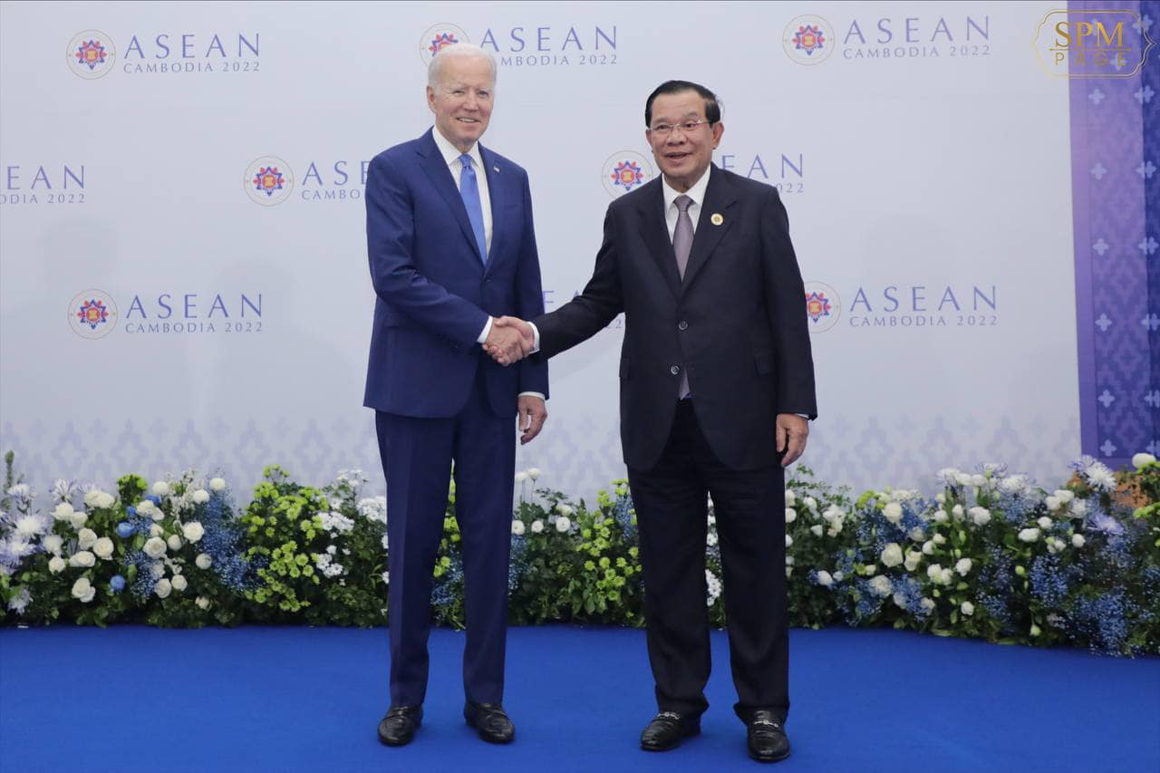 "The Antiquities Coalition commends the Royal Government of Cambodia, ASEAN, and all its other Member States for putting the fight against cultural racketeering so high on this year's Summit agenda and committing to future action," said Deborah Lehr, Chairman and Founder of the Antiquities Coalition. "We are excited to see how the Republic of Indonesia, the 2023 ASEAN Chair, picks up this mantle and further showcases the rich cultural heritage of Southeast Asia to the world."
Read the ASEAN Leaders' Vision Statement on "ASEAN A.C.T.: Addressing Challenges Together"
Read the ASEAN-U.S. Leaders' Statement on the Establishment of the ASEAN-U.S. Comprehensive Strategic Partnership.
Read the Chairman's Statement of the 40th and 41st ASEAN Summits