The Antiquities Coalition Honors the 25th Anniversary of the Blue Shield
December 20, 2021
Executive Director Tess Davis Presents At Conference, Celebrating Partnership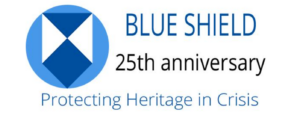 This month, our partners at Blue Shield International celebrated 25 years protecting heritage in conflicts, disasters and crises around the world. To commemorate this important milestone, leaders in the field gathered on December 14th and 15th at a virtual convening.
Pulling together the most knowledgeable experts in the field, this anniversary event provided a space for meaningful dialogue. Key takeaways of the event highlight the success of the Blue Shield since its foundation in 1996, the importance of collaboration between private and nonprofit organizations, and next steps for the organization and its partners in the fight against cultural heritage destruction.
Key Takeaways
Executive Director Tess Davis spoke at the conference, celebrating over a year of direct partnership between the Antiquities Coalition and Blue Shield International. Joint efforts of the AC and Blue Shield include recent efforts to engage the International Criminal Court on issues of cultural heritage. In partnership with Genocide Watch, the AC submitted formal comments to the court, drawing on the expertise of counterterrorism experts, lawyers, archaeologists, and professionals from leading heritage organizations.

In addition, Davis highlighted a recent Blue Shield collaboration on a Policy Brief with the AC Think Tank. The publication examines the UK's recent decision to repeal the EU Regulation on the Introduction and the Import of Cultural Goods (EU 2019/880) in Great Britain. The brief's author and Chair of U.K. Committee of the Blue Shield, Fionnuala Rogers, argued that the UK must take immediate steps to mitigate that risk policy gaps in the region. To read the full policy brief, click

here.
The Antiquities Coalition applauds Blue Shield International's mission and will continue to support them in their fight to protect cultural heritage in times of disaster. 
To learn more about Blue Shield International and its mission, visit their website, here.