Recommendations Urge G20 to Strengthen Global Policy on Illicit Antiquities Trade
October 28, 2021
Report Details 9 Concrete Steps to Protect Cultural Heritage and the Legitimate Art Market from Criminal Misuse
Rome, Italy, 28 October 2021: Today, an international coal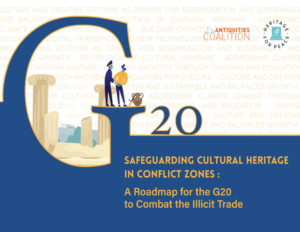 ition of experts released Safeguarding Cultural Heritage in Conflict Zones: A Roadmap for the G20 to Combat the Illicit Trade in Cultural Objects. This evidenced-based report puts forward nine specific recommendations to strengthen global policy against the looting and trafficking of cultural objects, a transnational crime closely linked to war and terrorism. Its publication comes as the G20 begins its annual Summit in Rome, where for the first time, heads of state and government will gather to close loopholes in the $50 billion international art market—still the largest unregulated market in the world.
Today's report seeks to support the G20 in this important work. It highlights risks posed by the illicit trade through a case study illustrating how armed groups plundered ancient sites in Syria and then laundered cultural objects into unsuspecting global marketplaces. More importantly, based on lessons learned from Syria's tragedy and others, it calls for new policies, priorities, and practices to be considered by the G20, its Member States, and the private sector as they work together to support the communities victimized by this transnational crime. The report was developed by leading experts and is being published online by the Antiquities Coalition, a not-for-profit organization and non-partisan think tank, in collaboration with Heritage for Peace.
Under the Italian Presidency, the G20 has prioritized making culture part of the post-COVID recovery, as well as incorporating it into the institution's broader work to secure economic integrity and transparent markets. Protecting history and heritage from the illicit trade, as well as other major threats such as climate change, is an identified pillar of this broader mission. To that end, on 29-30 July in Rome, Italian Minister of Culture Dario Franceschini brought together the G20 Member States for a cultural ministerial meeting, part of a series of high-level events on the illicit trade that led up to this week's G20 Summit, which is also being held in the Eternal City.
"We commend the Italian Republic and the G20 for making this issue part of its agenda," said Deborah Lehr, Chairman and Founder of the Antiquities Coalition. "Such leadership is needed to ensure that grave robbers, tomb raiders, and art smugglers do not succeed in a post-COVID world—especially at a time when so many legitimate collectors, dealers, and museums are now facing underserved financial hardship."
While looting is a problem as old as the pyramids, the pandemic has given the G20's focus added urgency. COVID-19 has cost the art world billions in losses, but at the same time, auctions have continued to set record prices. Moreover, some high-risk areas of the market, like loaning money against art or antiquities as collateral, are skyrocketing even as others shut down. And, although lockdowns have shuttered above board dealers, galleries, and auction houses, the international black market has stayed wide open for business, with archaeological watchdogs warning that online sales are skyrocketing. 
Safeguarding Cultural Heritage in Conflict Zones: A Roadmap for the G20 to Combat the Illicit Trade builds on the Antiquities Coalition's 2016 and 2020 independent task force reports and research by our partners commissioned by the U.S. Department of State and European Commission. It also seeks to reinforce the important work already done by intergovernmental organizations, national governments, the private sector, and academia. The full report is available on the Antiquities Coalition's website at theantiquitiescoalition.org. 
###
About the Antiquities Coalition 
To protect our shared heritage and global security, the Antiquities Coalition is leading the international campaign against cultural racketeering, the illicit trade in ancient art and artifacts. We champion better law and policy, foster diplomatic cooperation, and advance proven solutions with public and private partners worldwide. We are working toward a future when the past is preserved for the next generation, not looted, smuggled, and sold to finance crime, conflict, and terror.
About Heritage for Peace
Heritage for Peace (Syria) is an NGO whose mission is to support heritage workers as they protect their collections, monuments and sites during armed conflict. As an international group of heritage workers we believe that cultural heritage, and the protection thereof, can be used as a common ground for dialogue and therefore as a tool to enhance peace. Currently our efforts are focused on Syria, where the ongoing conflict has damaged World Heritage sites, threatened museums, bombed libraries, and led to an epidemic of looting of cultural artefacts. Heritage for Peace is impartial in the conflict; our programs are focused on training heritage professionals and other interested parties to deal with the unique challenges of protecting cultural collections, monuments and sites during armed conflict.