Preserving Algerian Cultural Heritage: Bardo Museum Launches Digitization Lab
June 6, 2023
Antiquities Coalition Leads International Team in Building Digital Infrastructure
An international team of experts from Algeria, Egypt, and the United States have introduced a new digitization lab at the Bardo Museum, a first in Algeria. Led by the US-based Antiquities Coalition (AC), the project designed and installed a laboratory to digitize and document the Bardo's museum collection and to build a database that will be accessible to the public via the Internet.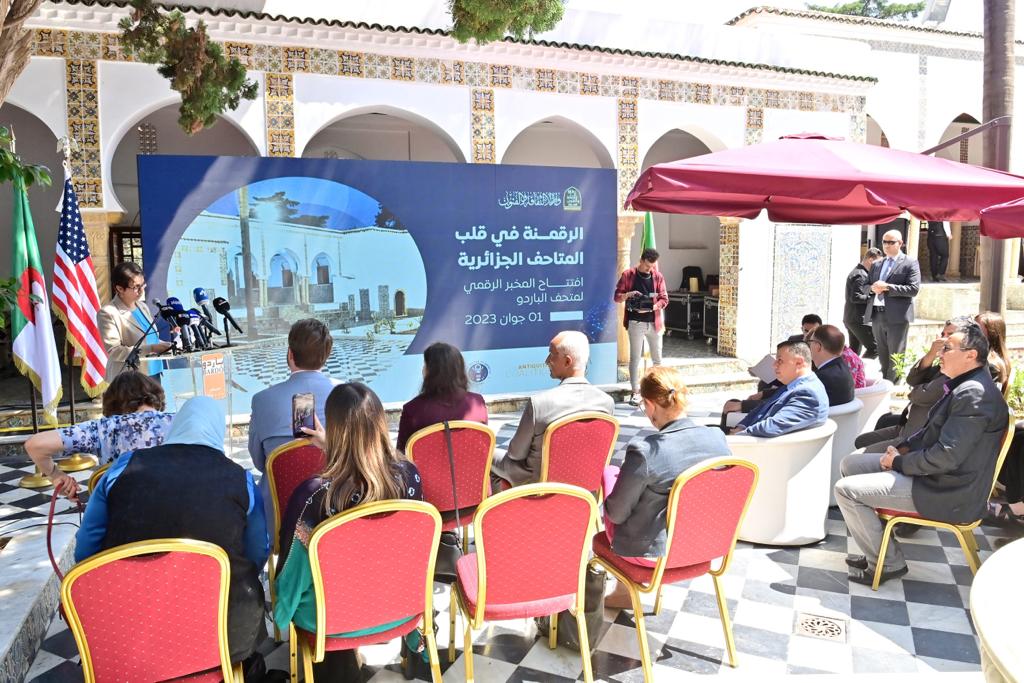 The AC brought together the Egyptian Heritage Rescue Foundation, which led the training for and installation of the lab; the Bardo and five additional Algerian museums; the Algerian Ministry of Culture and the Arts; and the US Embassy in Algiers, which provided funding for the project. US Ambassador Elizabeth Moore Aubin cut the ribbon on the new lab in the Bardo's facility in their 18th century palace. 
"This was truly an international effort," Ambassador Aubin explained. "Supporting cultural heritage in Algeria is a top priority of the United States and one that we are proud to work on with such a diverse group of experts."

Mme. Soraya Mouloudji, Algeria's Minister of Culture and Arts, commented, "The preservation of culture is especially important in Algeria. We have a very long human history and outstanding collections that we want to share. We are pleased to work with our international partners to reveal so much about Algeria's past." 
In addition to the Bardo museum, representatives from five other Algerian museums joined the training.
"This is a major step forward for Algerian museums," explained project director and AC Co-founder Peter Herdrich. "We scaled up the project to include these five other museums that will be able to build their own digital infrastructure. We have been working with the Ministry of Culture and Arts on heritage projects for the last two years and this is a great example of working as a coalition on a larger project supporting Algerian heritage."

"We designed a curriculum specifically for these trainees," training director Abdelhamid Salah of the Egyptian Heritage Rescue Fund said. "When you work with excellent partners, it inspires you to do your best. And that's what happened here." 
The Bardo Museum specializes in Algerian prehistory, tracing back more than two million years to the dawn of man. 
Museum director, Zoheir Harichane, said, "Algeria is a spot where human culture originated. We want our collections to be visible on the Internet, to share our magnificent objects with the Algerian and worldwide publics. This allows us to do that and make Algeria's culture part of the worldwide understanding of human history and how it developed."
For more information, contact Ms. Abir Chorfa at achorfa@theantiquitescoalition.org. For more information about collaboration on advanced training projects in museum, library, archive, and manuscript skills and infrastructure and other cultural heritage preservation projects, contact Peter Herdrich at pherdrich@theantiquitiescoalition.org.