AC Leads Expert Discussion on Efforts Beyond Cultural Heritage Preservation
June 15, 2023
The illicit trade of cultural property continues to plague our collective history, with many governments, including the United States, warning that it also threatens our global security and economy. American calls for action have been echoed by a wide range of international partners—including groups like the United Nations Security Council, Group of 20, European Union, North Atlantic Treaty Organization, and ASEAN.
For too long, we've also seen bad actors misuse the art market to launder money, evade sanctions, and hide their illicit antiquities with only the cultural sector actively working to combat them.
On June 5, 2023, the Antiquities Coalition held a roundtable with experts from various backgrounds to discuss how governments, law, civil society, and more can support the culture sector in combating cultural racketeering.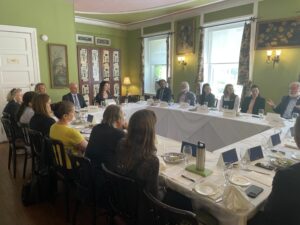 These recommendations focused on actions beyond heritage preservation and emphasized that mitigating the illicit antiquities trade is a shared responsibility. Better archaeology can not solve this problem alone, we need to strengthen law enforcement, international cooperation, and economic integrity. The illicit trade of art and antiquities should not be the burden of the cultural sector alone.
During the roundtable, participants discussed how the fight against cultural racketeering is linked with the broader goals of the United States, including combating transnational crime, protecting legal markets, and building stronger relationships with their allies. They also emphasized how these actions benefit all sectors of society.
The Antiquities Coalition thanks those who participated in the roundtable and looks forward to collaborating with experts across all industries to strengthen legal frameworks and preserve and protect cultural heritage.