UN honors Al Arabiya General Manager Turki Aldakhil
September 22, 2016
UN honors Al Arabiya General Manager Turki Aldakhil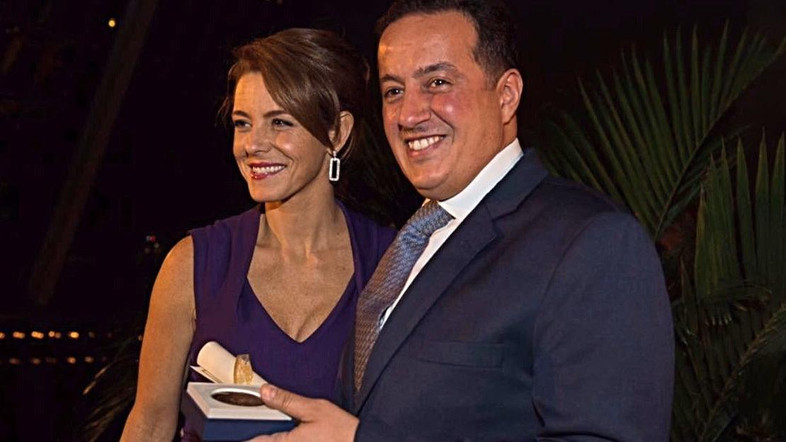 The United Nations hosted a ceremony in which it  honored the frontrunners of the international campaign to combat extremism on Sept. 22 at its headquarters in New York.
"Hero Awards" was presented to a wide range of women and men who were role models in leading the fight against violent extremism across the world.
Al Arabiya News Channel's General Manager Turki Aldakhil was one of the honored alongside other international personalities due to his promotion of education and his history of promoting tolerance and fostering interfaith dialogue across the Arab region.
Arabian Business magazine named Aldakhil among its list of the most influential Arab figures in 2007, 2010 and 2011 and ranked him 29th of the world's 100 most powerful Saudis in November 2012.
In 2014, he received the America Abroad Media annual award for his role in supporting civil society, human rights and advancing the role of women in Gulf societies.
Other award winners include Iraqi Yazidi Nadia Murad, American journalist at the New York Times and author Nicolas Kristof, founder of "Teachers Against Terrorist" Network in Kenya, Abdulhafiz Yousef Abdi and Hafsa Mohammad for her role in combatting extremism in schools in Nigeria.
The event took place on the sidelines of the 71st UN General Assembly and was organized by the United Nations Educational, Scientific and Cultural Organization (UNESCO) working in tandem with six international institutions, including the Metropolitan Museum for Arts in New York.
The event included as well to other parts including the celebration of "True Hero Awards" which was led by nine champions for human rights, dialogue and peace, including the UNESCO Director-General, with Sarah Bloomfield, Director of the U.S. Holocaust Memorial Museum, Tina Brown, Women in the World, Ambassador Esther Coopersmith, Meera Gandhi, Founder and CEO, The Giving Back Foundation, Arianna Huffington, Francine Lefrak, Harvard Women's Leadership Board, Deborah Lehr, Chair of the Antiquities Coalition and Catherine Reynolds, Founder and CEO of Catherine B. Reynolds Foundation.
The "Lead by Example" Award will be presented to President Macky Sall of Senegal and Datin Paduka Seri Rosmah Mansor, First Lady of Malaysia.
PDF of article here