Turning Global Resolve Into Global Action: The Antiquities Coalition Joins UN Ambassadors for Emergency Roundtable in New York
June 6, 2015
"Unanimous" doesn't happen easily or often in the 193-member UN General Assembly.
It did last week when the United Nations unanimously adopted a resolution condemning ISIS' barbaric destruction and looting of the cultural heritage of Iraq.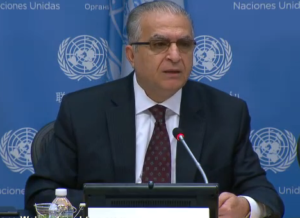 Ambassador Mohamed Alhakim, the sophisticated and determined representative from Iraq, is the force behind this new effort at the United Nations.  In an impressive act of multilateral diplomacy, he shepherded a strongly worded resolution through the challenging UN process, declaring ISIS' intentional destruction of culture a "tactic of war" and calling on all nations to join together to fight against the erasure of our common heritage.
UNESCO Director-General Irina Bokova said the resolution represents a "turning point" in the mobilization of the international community against the destruction of cultural heritage.
UN Deputy Secretary-General Jan Eliasson said the coordinated action, improved information sharing and legal action would start to slow the tide of senseless extremism against the past, present and future of human civilization.
Following the resolution, to further turn global resolve into global action, Italy and Jordan's UN ambassadors brought colleagues together with experts from the Antiquities Coalition, UNESCO, the United Nations Office on Drug and Crime, Interpol and the Carabinieri, the famed Italian police force who are world leaders in cultural law enforcement.
Antiquities Coalition chair Deborah Lehr, also invited to attend, said "We are facing a crisis that requires the political will on behalf of each country to come together to seek solutions.  There are practical steps that countries can take individually and together to help stop this illicit looting."
Countries as diverse as Poland, Ghana, Hungary, Mali, Russia and the United States spoke out in unity behind the need for action.  Ambassadors shared lessons learned from the destruction of culture in their own countries and how they might be relevant when facing today's issues.  The representative from Turkey, the major transshipment point for illicit antiquities from Syria and Iraq, said her country is now strengthening protections at its borders, increasing training for its customs officers and alerting museums, dealers and others purchasers that they will take strong action against those who are dealing in looted antiquities.
ISIS seems to have taken notice.  They boasted, in a page right out of Nazi history, that they will now destroy "only" antiquities which present a world view other than their own. They even named a sham "antiquities minister."
We are not fooled. The world is not fooled.  The world must not – will not — allow this cultural genocide-for-profit to continue.  Declaring intent in Cairo, upping that to unanimous global resolve at the UN and following up with pledges of international action are a launching pad to slow ISIS funding and neutralize one reason for the terrorists' barbarous acts.
The world is showing ever-increasing and unanimous resolve: ISIS destruction, intimidation and profiteering will not be allowed to stand.