Tomb Raiders and Terrorist Financing: Cutting off the Illicit Traffic in "Blood Antiquities" – AC's Tess Davis on the AIA National Lecture Circuit
November 10, 2015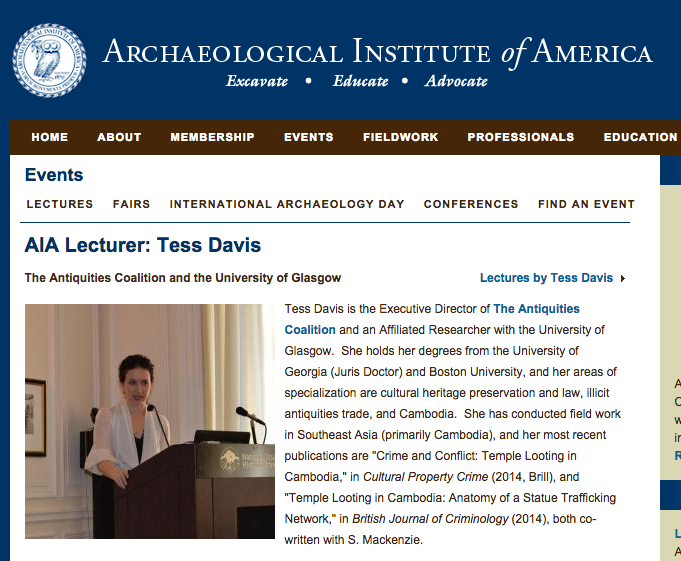 With the destruction and looting of cultural heritage in the Middle East and beyond a constant headline in the press, it is important to understand not only the threats facing our world heritage, but how to combat them. On October 25, Tess Davis, the Antiquities Coalition's Executive Director, presented Tomb Raiders and Terrorist Financing: Cutting off the Illicit Traffic in "Blood Antiquities" to the Orange County, California, society of the Archaeological Institute of America (AIA).  The talk was part of the AIA's National Lecture Series. and joined by local archaeologists, university students, and members of the general public.
The crimes committed by ISIS are not only a matter of losing history and heritage but also a matter of financing terrorism through the illicit sale of antiquities on the black market – often called "blood antiquities." The United States and UK are among the largest markets for antiquities, and as the crisis in the region grows artifacts stolen from the Middle East are making their way to the west.
The threats to these cultural objects are threats through both finance terror and threatening security. Groups like ISIS not only profit from the illicit sale of antiquities but also use those profits to finance their continued destruction for political gain.
Using her previous experience in tracking the connections between the illicit antiquities trade and terror financing by the Khmer Rouge in Cambodia during the 1970's, Tess Davis has been able to draw parallels between the looting and trafficking of objects for criminal financing in Cambodia to the current situation in the Middle East. These crimes are repeated across decades, continents, and cultures and they will take a global effort to combat.
The AIA's National Lecture Program holds lectures across the AIA's 110 local societies between the US and Canada. The Lecture Program has been a central part of the AIA's mission for more than 100 years to bring the public new developments in the field of archaeology.
Tess Davis's next lecture for the National AIA Lecture Series will be in Portland, Oregon on Friday, April 29, 2016 – 7:30pm. Click HERE for more details