Think Tank Tackles Effectiveness of International Law in Safeguarding Cultural Heritage in Conflict Zones
April 24, 2019
New Antiquities Coalition Policy Brief Released on 20th Anniversary of Landmark International Treaty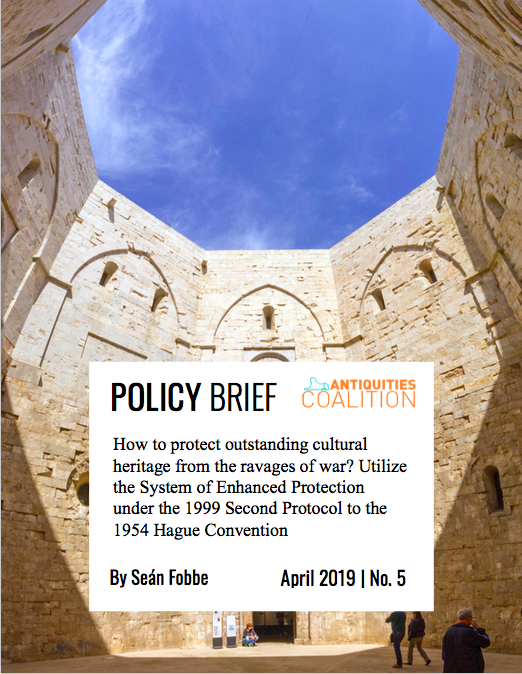 WASHINGTON, DC (April 24, 2019)—The Antiquities Coalition today released a policy brief analyzing the power of international humanitarian and cultural property protection law to shield outstanding cultural patrimony from the ravages of war.
Masterpieces and ancient sites that survived millennia can violently disappear in mere seconds during times of war. Around the globe, we are witnessing cultural destruction on a scale not seen since World War II. Whether caught in the midst of direct conflict or pillaged in the resulting chaos, cultural sites are often deliberately targeted during regime change or unrest. Their destruction is a warning sign of impending war crimes, crimes against humanity, and genocide. Left unchallenged, such cultural crimes are not only a physical threat to heritage, but also a threat to human rights and international peace.
However, international law offers a number of safeguards to incentivize policymakers and military commanders to incorporate cultural heritage protection into battle and stabilization planning. One potentially powerful tool is the system of Enhanced Protection, created under the Second Protocol to the Hague Convention. Unrivaled in its logistical, financial, and political advantages, the system of Enhanced Protection grants legal protection to objects and sites designated as of the greatest importance to humanity. Developed in 1999, the Second Protocol is an international treaty that expands and clarifies the original 1954 Hague Convention, which was the first such treaty to focus exclusively on the protection of cultural property in armed conflict.
"Making use of Enhanced Protection should be a key priority for any policymaker concerned about the protection of outstanding cultural heritage in armed conflict," argues Seán Fobbe, Chief Legal Officer of RASHID International. Fobbe is a leading expert on the fight end the destruction of Iraqi heritage and establish accountability for international cultural crimes.
Fobbe recommends a tripartite approach to legislation, beginning with ratification of 1999 Second Protocol by the United States and other nations. Nations could then nominate relevant sites and objects for Enhanced Protection, and support the system through a specially designated cultural heritage protection fund. Fobbe also presents models for 'no-loot lists' to complement existing 'no-strike list' policies.
Find a summary and link to the complete policy brief, "How to protect outstanding cultural heritage from the ravages of war? Utilize the System of Enhanced Protection under the 1999 Second Protocol to the 1954 Hague Convention," here.
About the Antiquities Coalition
The Antiquities Coalition unites a diverse group of experts in the international campaign against cultural racketeering, the illicit trade in art and antiquities. This plunder for profit funds crime, conflict, and violent extremist organizations around the world. By championing better law and policy, fostering diplomatic cooperation, and advancing proven solutions with public and private partners worldwide, the Antiquities Coalition empowers communities and countries in crisis to safeguard cultural heritage for future generations.
Launched in 2016, the Antiquities Coalition Think Tank joins forces with international experts, including leaders in the fields of preservation, business, law, security, and technology, to bring high-quality, results-oriented research to the world's decision-makers, especially those in the government and private sectors. Policy briefs strive to strengthen policymakers' understanding of the challenges facing collective human heritage, and to help them develop better solutions to protect it.