The Message of Cultural Heritage Protection at the United Nations
December 21, 2015
On the first floor of the UN General Assembly building in New York a vest pocket-sized exhibition called "Protecting Cultural Heritage: An Imperative for Humanity" is on display through December 24. One of the organizers is Luigi Marini, Legal Advisor to the Permanent Mission of Italy. And though it is small in scope, it is large in aspiration. Signore Marini hopes that the exhibition will remind delegates that the fight against looting, the illicit trade, and the terrorists and criminals who profit from it continues and that it is time for action. "With this exhibition, we stand up for cultural heritage which is so important for all member nations."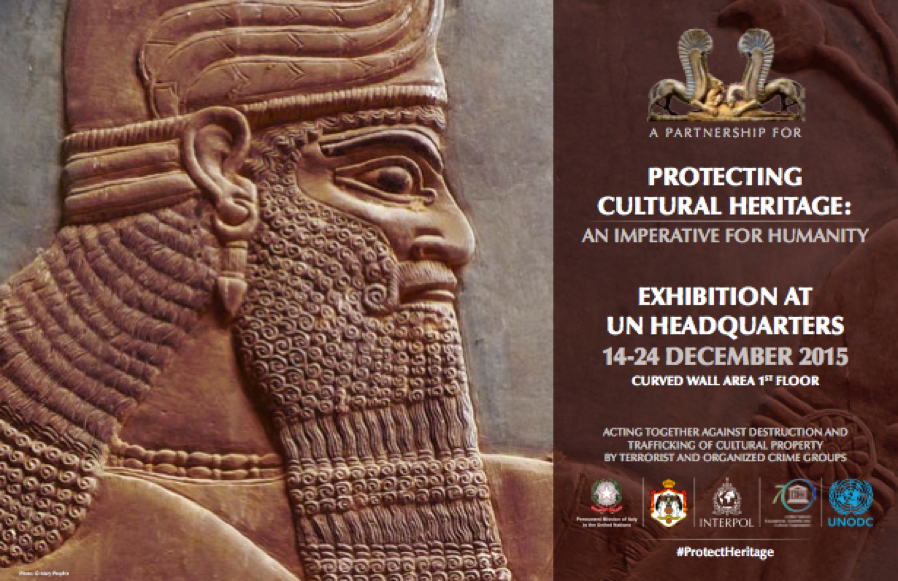 On December 18, the UN unanimously passed a resolution seeking to slash ISIS's funding in a session chaired by US Treasury Secretary Jacob Lew. The resolution strengthens tools to enforce freezing assets, banning travel, and prohibiting the transfer of arms. It also calls on countries to criminalize financial transactions with the terrorist, share information, and track the flow of money, among other steps that seek to cut ISIS's financing from oil, drug smuggling, kidnapping, taxation, and the sale of antiquities. (For more on the UN Action from the Antiquities Coalition blog, click here).
There is more to do. UN resolution 2199, passed last February, calls on all members "to prevent the trade in Iraqi and Syrian cultural property." It gave states 120 days to implement the resolution, but Congress has not passed the necessary legislation, despite FBI alerts that ISIS looted materials are reaching the US. With the profits from looting and the illicit trade funding terrorist activities, the crisis in cultural racketeering is a national security issue, for the US and other countries around the world.
That issue is vividly on display at UN headquarters. Organized with Jordan's Mission to the UN and partners from UNESCO, the United Nations Office on Drugs and Crime, and Interpol, the organizers worked with the Carabinieri, the Italian national police force that has jurisdiction over the illicit trade in cultural material to exhibit three large vases, repatriated to Italy after being smuggled out of the country. Along with films, a touch screen display on looting around the world, and photos, the message to UN personnel is clear; cultural heritage protection really is an imperative for humanity.