The Antiquities Coalition and the Egyptian Heritage Rescue Foundation Offer Free Virtual Training on Manuscript Preservation
April 2, 2021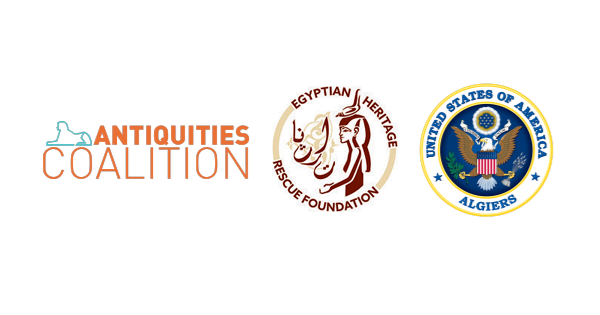 The Antiquities Coalition and the Egyptian Heritage Rescue Foundation have organized a free capacity building virtual training session on manuscript preservation, sponsored by our partners at the U.S. Embassy in Algiers. Mr. Abdelhamid Salah, EHRF chairman and expert trainer, will lead a training session on manuscripts with EHRF's experts, Amira Sedik and HebatAllah AbdelHamid, including information about conservation, stabilization, and how to prepare for inventory and digitization.
The session will be held in Arabic on April 10 at 10:00 a.m. New York (3:00 p.m. Algiers, 4:00 p.m. Cairo) and is open to experts, librarians, and interested members of the public who are working in the field of cultural heritage preservation in the Maghreb.
This training is a direct result of a recent AC three-day virtual conference sponsored by the U.S. Embassy in Algiers in collaboration with the Ministry of Culture and the Arts of the People's Democratic Republic of Algeria, on digitization and cultural preservation in the Maghreb region. Over three one-hour sessions, this forum convened national officials, librarians, and heritage experts for a discussion of the challenges and opportunities facing Maghreb countries as they digitize their irreplaceable cultural materials. 
To Sign Up for the Training Session on Manuscript Preservation: https://us02web.zoom.us/webinar/register/WN_LsCI3keBSQirNeXZC9Da9g
To Read More About the Conference: https://theantiquitiescoalition.org/u-s-embassy-sponsors-regional-conference-and-training-with-antiquities-coalition-to-preserve-maghreb-manuscripts/
To Watch the Public Session on Digitization of Materials in the Maghreb: https://youtu.be/tgilsTPYOHw
يسعدنا انضمامك إلينا يوم 10 أبريل الساعة 10:00 صباحًا نيويورك / 3:00 مساءً الجزائر العاصمة / 4:00 مساءً القاهرة لحضور تدريب افتراضي على حفظ المخطوطات ، يتم تقديمه باللغة العربية
.
مجاني ومفتوح لأي ممارسين مهتمين
.
تعلن منظمة " التحالف من أجل الآثار" بالتعاون مع "المؤسسة المصرية لإنقاذ التراث" عن تقديم دورة تدريبية مجانية حول " بناء القدرات لحفظ المخطوطات
"
سوف تقدم الدورة تحت أشراف، السيد "عبد الحميد صلاح" رئيس مجلس أمناء المؤسسة المصرية لإنقاذ التراث بالتعاون مع خبراء المؤسسة المصرية لإنقاذ التراث: د. أميرة صديق، د. هبة الله عبدالحميد و د. نجاح رجب.
.
الدورة التدريبية سوف تتناول المحاور الرئيسية الآتية: 
:
الحفاظ و تثبيت الحالة الراهنة
.
توثيق ورقمنة المخوطات وإعداد قواعد البيانات الرقمية