The AC Digs Into: The Sidon Bull's Head
October 20, 2017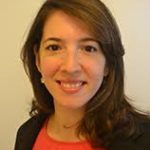 New York City is reeling from a ongoing legal battle over an ancient bull's head—believed to have been looted by armed insurgents during the Lebanese Civil War—only to end up at the height of the Manhattan art world. This case made headlines in the Wall Street Journal, and was described in detail by the blog Chasing Aphrodite. To get a better understanding of the latest developments, we're here with attorney Leila Amineddoleh, who is serving as an expert for the government.
---
What is your law firm's role in cases like this?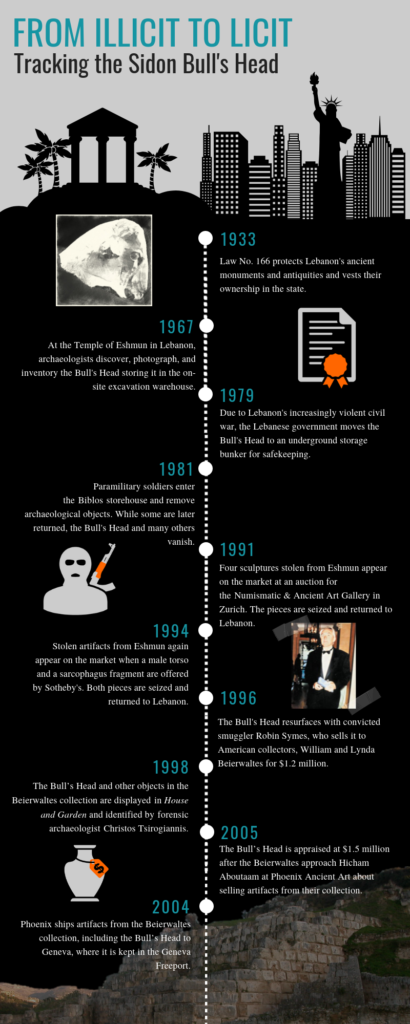 When working on these matters, I advise governments on cultural heritage laws, interpreting US and foreign legislation and ownership laws. I also offer consultation services relating to legal analysis of art and heritage matters.
So, for this case, on September 22, Manhattan Assistant District Attorney Matthew Bogdanos went to the New York Supreme Court to repatriate this ancient bull's head to Lebanon. In doing so he laid out its history—from when it was carved around 360 BC, to its rediscovery in archaeological excavations during the 1960s, to its alleged looting at the hands of armed militias during Lebanon's bloody conflict. But then the piece just disappears for 15 years. How can that happen? 
Sadly, this is the fate of many looted objects. When objects are stolen, they often enter the black market where they are exchanged with minimal paperwork. Individuals dealing in plundered goods intentionally avoid detection of their wares, and thus they do not document the sale and movement of these valuable objects. And for items plundered during conflict, the antiquities may disappear for decades; dealers often conceal illicit goods because their appearance on the market during an ongoing conflict may raise suspicions by law enforcement officials and art market players.
When the bull's head finally resurfaces—again almost two decades later—it then goes through the hands of a "who's who" from recent antiquities scandals and legal battles. Who are some of these people and where can our readers learn more about them?
One of the most interesting aspects of this case is that it involved so many art market participants involved in illicit market. I provided information about some of these individuals on my law firm's blog. The list of players includes the owners of Phoenix Ancient Art, Hicham and Ali Aboutaam. They have been involved in many legal matters and were profiled by the Wall Street Journal this year. Robin Symes is notorious for his role in the trade of looted antiquities market, and he's been linked with many other well-known corrupt dealers. Frederick Schultz is a former gallery owner and former president of the National Association of Dealers in Ancient, Oriental and Primitive Art, and he eventually served jail time for knowingly dealing in stolen Egyptian antiquities. Michael Steinhardt, known as "Wall Street's Greatest Trader," has defended himself many times over his art acquisitions, including a stolen golden phiale from southern Italy and a looted fresco from Pompeii. (This year, he was not only involved in this case, but also connected to the controversial sale of the purportedly stolen Guennol Stargazer.) Frieda Tchacos was also listed in this matter. She is a dealer with a record of violations for dealing in illicit antiquities. All of these individuals have faced legal action for the trade of looted objects.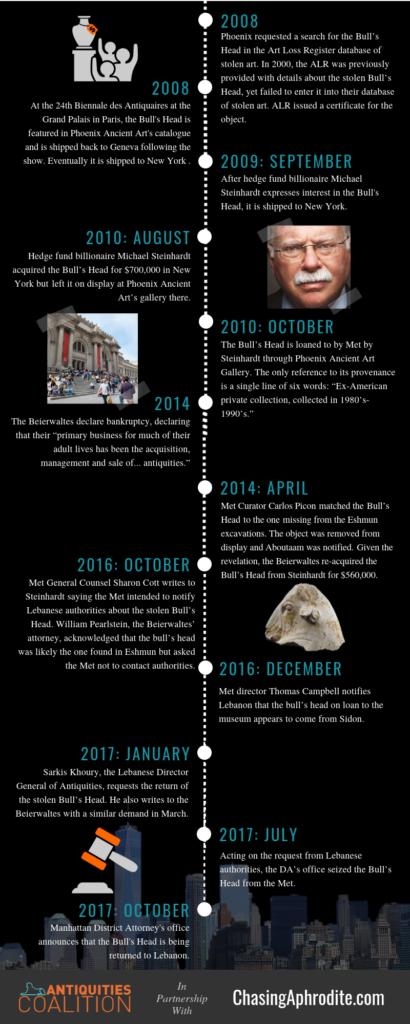 The bull's head eventually ended up on loan to the Metropolitan Museum of Art in New York—who to their credit—realized the piece may have been a conflict antiquity and then  sounded the alarm. What responsibility do museums have in cases like this?
As Bogdanos stated in his filing, the Met acted "admirably" by informing authorities about the bull's head's problematic past. It can be difficult for museums to ascertain accurate information about objects being donated or sold to their institutions because individuals involved in the trade of loot conceal this information. To avoid the acquisition of stolen art and looted antiquities, museums should be completing due diligence because those institutions are stewards of our shared artistic and cultural heritage.
As a lawyer, what do you find most interesting about the case?
I think the most interesting aspect of this case relates to the Beierwaltes claim that they acted in good faith and weren't aware of the looted nature of the sculpture. I don't think it is a credible claim because the collectors are well-versed in the antiquities trade (their collection is worth tens of millions of dollars). I suspect that the collectors either knew about the work's past or turned a blind eye towards its background.
What can collectors — and the art world more broadly — learn from this?
Collectors should realize that purchasing looted objects is never wise. Law enforcement can seize illicitly acquired items, rightful owners can litigate for restitution, and the aftermath of these legal maneuverings can be damaging, in terms of both reputation and finances. Collectors should use actual good faith to complete due diligence and avoid the purchase of plundered antiquities.
Finally, given the facts of this case, are you concerned that conflict antiquities looted from Iraq and Syria may be showing up on the "legitimate" art market in a decade or two? 
I have no doubt that looted antiquities from Iraq and Syria will be appearing on the "legitimate" market within the next decade. These objects are already traded on the black market and on the internet, and it's only a matter of time before they appear at major art outlets. As in past instances of looted and traded materials, I expect that these items will be accompanied with forged documentation, contrived stories about the works' presence in pre-existing collections (as in the bogus provenance provided in the matter of the Ka Nefer Nefer funerary mask at the St. Louis Art Museum), or simply claims that objects cannot be repatriated without definitive proof of looting from a find spot. It is a sad state of affairs; unfortunately, the denial of knowledge and lack of good faith only worsens the situation and helps the trade in loot to thrive.