The AC Digs Into: Antiquities: What Everyone Needs to Know
October 2, 2017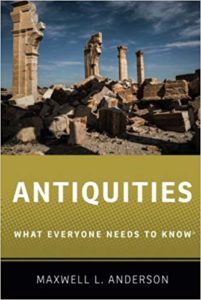 In his latest book, Antiquities: What Everyone Needs To Know, Maxwell Anderson aims to provide a toolkit to help readers make informed decisions when confronted with issues having to do with heritage and antiquities. His insights are especially relevant today as looted antiquities from conflict areas continue to enter the art market at increasingly higher rates.
Anderson successfully provides a look into the world of antiquities, defining important concepts, and creating a reference book that is accessible to those both in and out of the field of heritage. The question and answer format creates an easy to follow argument, while underlining the important questions that we all should be asking when dealing with antiquities. The book is divided into three parts: Legal and Practical Realities, Settled Law and Open Questions, Scenarios and Solutions.  This division created a natural flow, which helps readers understand the complex issues surrounding the field of antiquities.
Anderson effectively makes the argument that there is no simple answer to best practices for cultural heritage by bringing together insights from archaeologists, museums, and auction houses, crafting an overall, well-rounded view.
This book is an important resource for anyone with an interest in antiquities and heritage protection. Antiquities: What Everyone Needs To Know, should be a staple in classrooms and home libraries alike, in order to stay informed and up-to-date on the issue of cultural heritage protection. 
What Others Are Saying
Eric Cline, author of Three Stones Make a Wall: The Story of Archaeology
"Well written, concise, informative and timely; chock full of expert insider knowledge. This is a must read for all who are interested in the past and concerned about protecting our mutual heritage in the future." Dr. Maxwell L. Anderson has researched, published, and presented exhibitions of ancient artworks for more than thirty years. He was a curator in the Department of Greek and Roman Art at The Metropolitan Museum of Art for over six years and more recently at the Dallas Museum of Art. He currently serves as the Executive Director of the New Cities Foundation.