Smuggled Artifacts Returned To Iraq
May 4, 2018
This Wednesday, April 2, 2018, the United States returned nearly 4,000 looted antiquities to the Republic of Iraq in a ceremony held at the Ambassador's residence in Washington, D.C.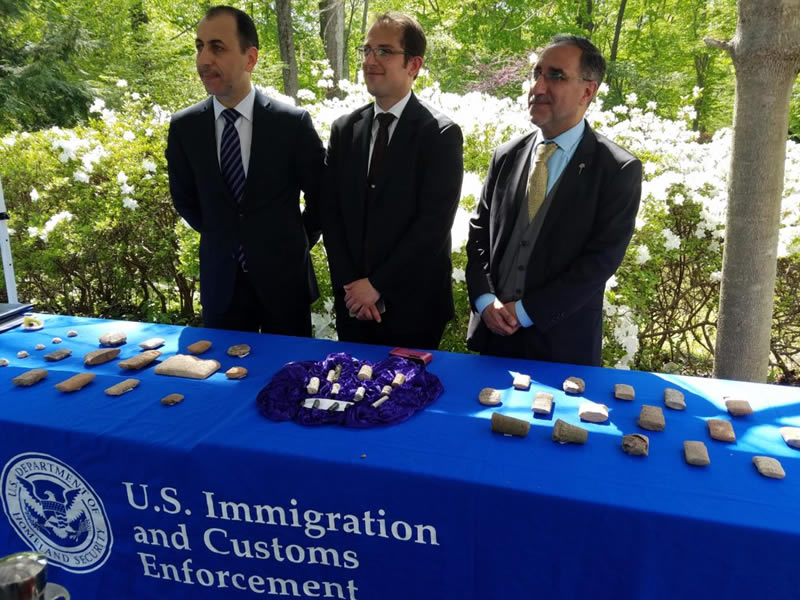 This repatriation was the outcome of a highly publicized federal lawsuit, in which the U.S. government seized thousands of ancient artifacts from Hobby Lobby, the national chain of arts and crafts stores. These pieces came from modern-day Iraq but had been smuggled into the United States through Israel and the United Arab Emirates, falsely described as "tile samples" from Turkey. Hobby Lobby settled the case, consented to the forfeiture of the antiquities, as well $3 million. No criminal penalties were imposed, but there was significant media coverage.
H.E. Fareed Yasseen, Ambassador of Iraq, opened the ceremony by stating the value of this cultural heritage to the people of Iraq. "These pieces are very important to us and they should be returned home to Iraq, to the rightful owner of these pieces." He further went on to say, "Iraqis have long memories. We have a kinship with these artifacts."
A small fraction of the confiscated antiquities was displayed at the event, including cuneiform tablets, cylinder seals, and clay bullae, representing the rich cultural heritage of Iraq. As U.S. Attorney Richard P. Donoghue stated, "The Republic of Iraq, standing on the land that was once home to the storied city-states and kingdoms of Mesopotamia, has a celebrated heritage as a cradle of civilization."
"CBP is honored to have played a role, together with ICE, in the return of these national treasures to their rightful owner, the Republic of Iraq," stated U.S. Customs and Border Protection Assistant Commissioner Ian Saunders. "In doing so, we ensure the protection of this priceless cultural heritage and secure a precious, tangible link to the past for future generations."
The Antiquities Coalition was pleased to attend the ceremony and see representatives from both governments come together in their shared mission to protect Iraqi culture under threat. Items such as the ones presented in these photos continue to emerge in the American art market and are a great historical loss to their source nations.