"Restoring Trust, Curbing Illicit Trade, and Improving Transparency in the Global Art Industry" – An ARIS event
November 16, 2015
On November 3, Antiquities Coalition Executive Director Tess Davis joined Restoring Trust, Curbing Illicit Trade, and Improving Transparency in the Global Art Industry, a briefing and discussion in Washington, DC, hosted by ARIS Title Insurance.

ARIS provides art title insurance to market players including museums, collectors, auction houses and financial institutions and assists the art market as well as non-profit community in mitigating the legal and financial structures of the market. It has recently made international headlines for its newly launched i2M Standards initiative, which in simplest terms, aims to create "vin numbers for works of art." The technology, developed with State University of New York (SUNY) at Albany, seeks to set about creating roadblocks for art forgery by infusing paintings, sculptures and other artworks with a form of uniquely identifiable DNA created in a lab. SUNY and ARIS developed it to address a pressing need of artists, collectors, museums, dealers, and lawmakers: the proliferation of fakes, forgeries, and stolen artworks on the international market.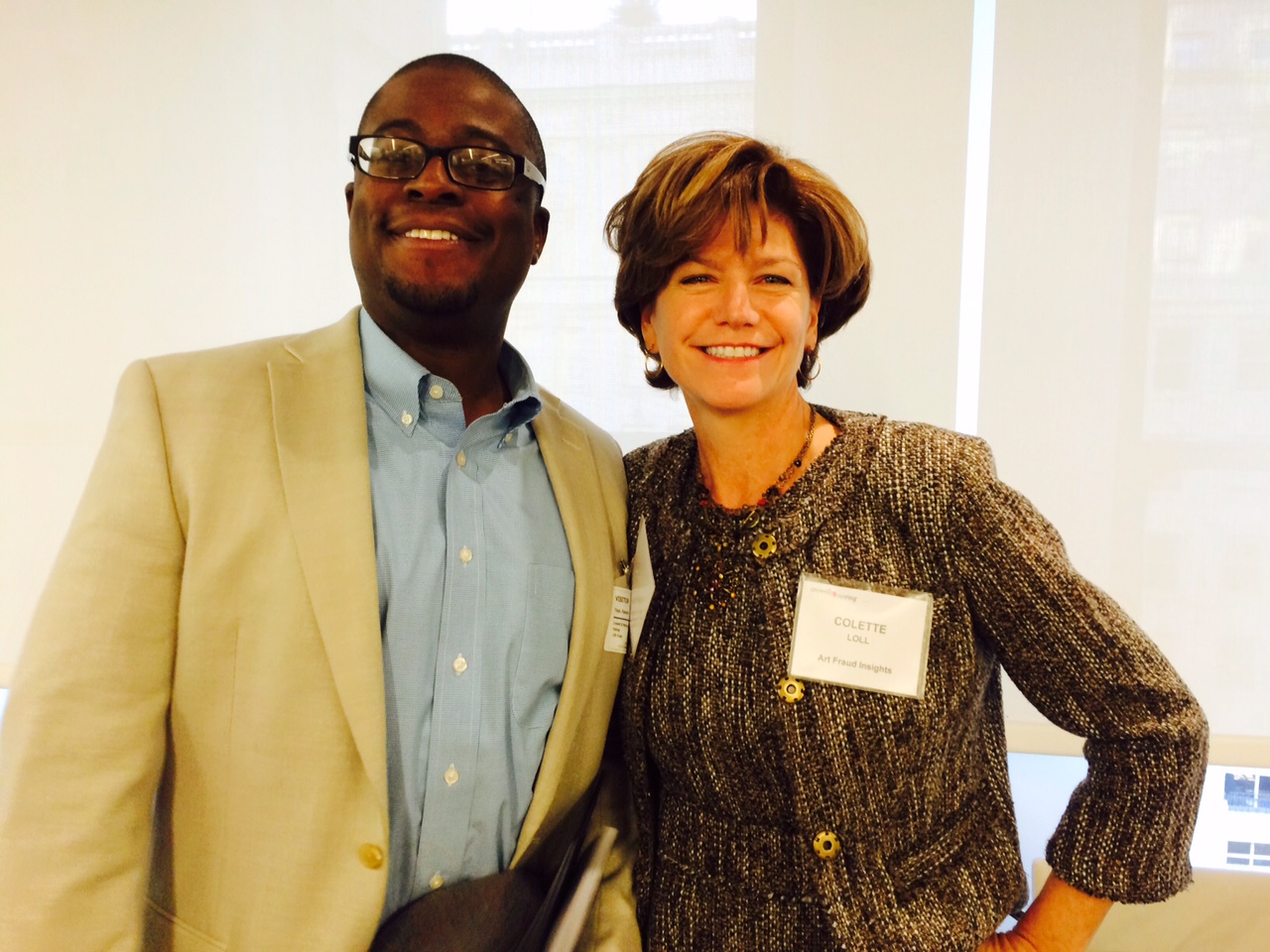 While created primarily with fine art in mind, i2M has much potential for regulating other forms of cultural property, including antiques and antiquities. With the federal government now warning that ISIS is making millions from the illicit antiquities trade, this news could not come at a more critical time, a fact which has not been lost on ARIS. The insurance company itself has recognized "the market opacity that has historically plagued buying, selling, and tracking of art, artifacts, and antiquities has taken on new significance" due to the "growth in illicit trade of stolen artifacts and its links to increasingly complex criminal networks including terrorist organizations."
The need to cut off criminal and terrorist financing from cultural racketeering was a recurring theme at the November 3 event, as was obvious from its participants, which included federal agents, analysts, and attorneys, as well as experts in asset tracing, finance, money laundering, and trade. Throughout the discussion, they examined i2M as a possible tool for law enforcement, which could be used both to counter transnational crime (especially illicit trafficking and money laundering) and safeguard cultural heritage. Despite the challenges inherent in launching such an initiative, the attendees were optimistic that a system like i2M could eventually be successful. 
Similar technology is already being used to regulate the international movement of goods ranging from from food to pharmaceuticals to timber, but some at the November 3 event questioned whether the art market is ready to expose itself to this same amount of scrutiny. Larry Shindell, Chairman of ARIS, believes it is, especially given the increasing role of terrorist networks like ISIS in cultural racketeering. He stressed that "greater transparency helps everyone" in the art market, and moreover, "better and more accurate information maximizes value for everyone." 
Of course, there is an exception to this rule, and one group that will be significantly harmed should i2M be successful: criminals. If and when this technology becomes widespread, art crime could become that much more difficult. At the #CultureUnderThreat forum in New York on September 24, the Antiquities Coalition joined our partners the Asia Society, Middle East Institute, and UNESCO in calling for such high tech tracking to combat cultural racketeering. These and other technological advances should be widely adopted by both the public and private sectors, in order to staunch the illicit trade, while allowing a legitimate trade to continue. 
We thank our friends at ARIS for inviting us to learn more about this initiative, and looks forward to seeing how it develops in future.