Remembering Barbara Mertz
August 12, 2015
By: Deborah Lehr, Chair and Founder, The Antiquities Coalition
Two years ago this week, the prolific best-selling author and dedicated Egyptologist Barbara Mertz, fondly known by her pen name Elizabeth Peters, tragically passed away, from cancer. Dr. Mertz was a true trailblazer — both as a writer of popular fiction and as a serious scholar.
At the young age of 25, she obtained her doctorate in Egyptology from the renowned Oriental Institute at the University of Chicago, but struggled to find work at a time when women were viewed as secretaries, not scholars.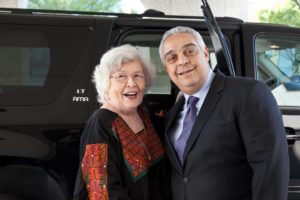 So Dr. Mertz, a freshly minted, brilliant archaeologist chose a different career path. She picked up a pen and began writing fiction, where she achieved tremendous success. Ironically, it is through her writings that she has educated more people about archaeology, the history of Egypt and its meaning to the world than she ever would have as an archaeologist.
Dr. Mertz's most beloved series is about the adventures of Ms. Amelia Peabody and her loving but fierce Egyptologist husband, Dr. Radcliff Emerson. Amelia and Emerson, as he is known, entertain readers as they fight against antiquities traffickers who are robbing archaeological sites and selling antiquities into international markets. Rich collectors, museums and auctions houses are all part of the intrigue — and, in many cases, they are the clients of the "Master Criminal, Black Hand" who is behind many of these capers. Through her storytelling, Mertz brings to life the excitement of that golden age of archaeology, sharing gripping, true-to-life exposés of the founding of King Tut's tomb and the political theatrics of the time between the European and Egyptian governments. Her stories illuminate Egyptian history vividly, with lavish and mysterious dinners hosted by princes and a queen in Sudan, travels back in time to an intact ancient Meroitic-Ancient Egyptian civilization, and many more adventures.
In addition to popularizing the history of Egypt through her novels, Mertz also used her platform to raise awareness about a persistent problem that continues to this day – cultural racketeering. This systematic looting of antiquities by organized crime, or, in modern times, by terrorist organizations such as ISIS, has increased severely in the Middle East since the Arab Spring.
Dr. Mertz was a vocal advocate against the trafficking of illicit stolen antiquities from her cherished Egypt. Just after the January 2011 Revolution in Egypt, when reports of mass looting of key archaeological sites started flooding in to the archaeological community, Dr. Mertz was part of a "call to action" requesting the U.S. government to take proactive measures to prevent U.S. citizens from inadvertently supporting these criminal activities by purchasing looted antiquities.
Dr. Mertz was highly respected and admired in the antiquities community. In a moving presentation at the Egyptian Embassy on April 14, 2011, Judy Woodruff, the PBS news anchor, interviewed Dr. Mertz about her experiences, her novels and her love for Egypt's past. At an event sponsored by the Antiquities Coalition and the Egyptian government, The Egyptian Deputy Chief of Mission and now the Deputy Minister for Investment, Yasser el Naggar, served as her host. Ambassador el Naggar has become a strong voice about the importance of protecting Egypt's past and fighting against antiquities thieves and terrorists. The Egyptian Ambassador at the time, who is now Egypt's Foreign Minister, Sameh Shoukry, introduced Dr. Mertz at the event. Minister Shoukry has been an active supporter of the fight against antiquities trafficking in the Middle East region, and views this as a critical part of Egypt's war against terror, since organizations such as ISIS are using the sale of these looted antiquities to fund their nefarious causes.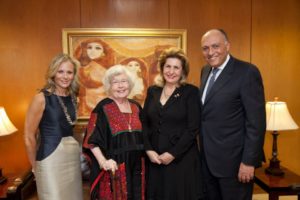 Elizabeth Peters, the fiction writer, is still missed by those longing to read another mystery novel about Amelia Peabody and Radcliff Emerson. Peters tragically died while writing another one of their adventures. Yet her creator, Dr. Barbra Mertz, continues to influence those she has inspired, including myself, to fight against those who would use theft of our history to rob future generations of their past. Her recognition by the Egyptian government is a reminder that one individual can truly make a difference.
This piece was cross posted on The Huffington Post.