Regional Conference Aims to Shut Down ISIS Funding from Antiquities Looting and Trafficking
March 26, 2015
EMERGENCY STRATEGY SESSION TO CONVENE IN CAIRO, MAY 13-14, 2015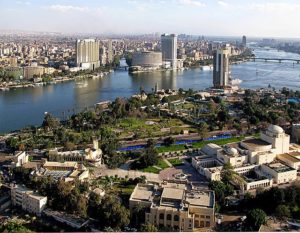 (Washington, D.C.) – In response to the unprecedented destruction of historical sites and antiquities by ISIS in Syria and Iraq, The Middle East Institute (MEI) and the Antiquities Coalition (AC) will co-sponsor a conference in Cairo from May 13-14 to promote ways in which the international community can address threats against the region's cultural heritage.
The Cairo conference, titled "Culture Under Threat: The Security, Economic and Cultural Impact of Antiquities Theft in the Middle East," will be held under the auspices of the Egyptian Ministry of Foreign Affairs and the Ministry of Antiquities. It will focus on regional solutions to the growing destruction, looting, and trafficking of antiquities across the Middle East and the links between antiquities racketeering and terrorist financing.
"We must take coordinated action to stop this march of destruction, and this is our chance to advance solutions to what is a true crisis," said the Arab Republic of Egypt's Ambassador to the United States, Mohamed Tawfik. "The terrorists of Da'esh must be stopped and all the countries invited have a chance to do their part."
Invited to attend are the foreign affairs and culture/antiquities ministers from Iraq, Jordan, Lebanon, Saudi Arabia, Oman and the UAE, as well as the director general of UNESCO, Irina Bokova, and leading experts on counterterrorism, terrorist financing, archaeology, and heritage law.
"Under Egypt's leadership, this unprecedented gathering will bring together key countries to form a new and powerful alliance," said Deborah Lehr, Chairman and Co-Founder of The Antiquities Coalition, "and transform our collective outrage into action. We may not yet be able to stop the sledgehammers, but these regional powers can impede the terrorists and criminals from profiting from stolen treasure. By standing together, these nations can do much to halt the trafficking of illicit antiquities."
The conference will open on the morning of Wednesday, May 13, and conclude on May 14.
"This timely conference is a call to action to stop the horrific destruction of our shared world heritage," said Wendy Chamberlin, President of The Middle East Institute.
Read the Press Release in Arabic Here. 
MEDIA INQUIRIES:
Katie Hooper, Communications, Antiquities Coalition
Katie.Hooper@wardcirclestrategies.com
202-494-8766
Scott Zuke, Communications Officer, Middle East Institute
szuke@mei.edu
202-785-1141 ext.1+236