The Antiquities Coalition brings together individuals, institutions, and governments in calling for strong action to safeguard our shared heritage.
A Call to Action to Protect the World's Cultural Heritage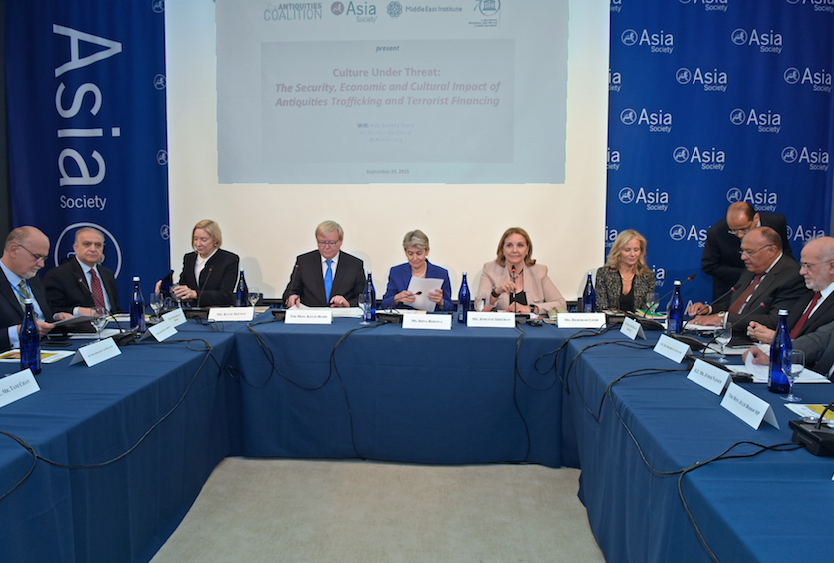 At the #CultureUnderThreat New York Forum held on September 24, 2015 at the Asia Society headquarters, Foreign Ministers and senior government officials from around the world joined leaders of arts institutions, archaeological associations, and experts in terrorism to stop the looting and trafficking of antiquities, and halt a major source of funding for terrorism.
The host organizations the Antiquities Coalition, the Asia Society, and the Middle East Institute issued a "Call to Action," a coordinated appeal for the international community to join forces in a strategic effort to halt the trade in conflict antiquities and, in doing so, cut off potential sources of terrorist revenue.
The coordinated appeal calls for:
The United Nations to formulate action plans to address "cultural cleansing"
The International Criminal Court to launch a war crimes investigation against those entities that engage in "cultural cleansing"
The international community, to support states in protecting, preserving, and documenting items of cultural heritage endangered by armed conflicts
A global campaign to raise awareness about the purchase of conflict antiquities and terrorist financing
All governments to take steps to prevent the trade in conflict antiquities
All actors involved in the cultural property trade to be vigilant when obtaining antiquities from countries in conflict
A Call to Protect Egyptian Antiquities
Just after the January 2011 Revolution in Egypt, when reports of mass looting of key archaeological sites started flooding in to the archaeological community, the International Coalition to Protect Egyptian Antiquities (ICPEA), led by The Capitol Archaeological Institute at The George Washington University, released a "call to action" requesting the U.S. government to take proactive measures to prevent U.S. citizens from inadvertently supporting these criminal activities by purchasing looted antiquities.
The call to action released in 2011 urged immediate action to protect Egyptian antiquities, important sites, and cultural heritage so that significant archaeological artifacts and irreplaceable historic objects would be preserved. Protection of heritage will not only preserve valuable historic data but also help the Egyptian economy in the wake of political revolution. Such an initiative will also help stem illicit international crime organizations that have links to money laundering, human trafficking and the drug trade.
You can still express your support for protecting Egypt's heritage with the call to action by signing the petition!
Our Media on Calls to Action
New Video Series Kicks off with UNESCO Director General Irina Bokova https://www.youtube.com/watch?v=hKoeecuR2MA The Antiquities Coalition is proud to continue bringing you insights from global leaders in the fight against cultural racketeering with the launch of [...]