The AC Digs Into: Plundering Beauty: A History Of Art Crime During War
July 10, 2018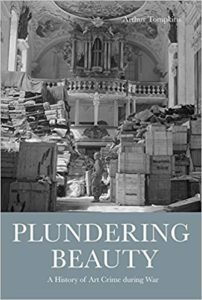 In his new book Plundering Beauty: A History of Art Crime During War, Arthur Tompkins takes a look at dire effects of conflict on a nation's cultural patrimony. The systematic pillage of sites such as Palmyra and Nimrud captured the attention of millions over the last five years, but this issue is not a new phenomenon. The destruction and looting of art in conflict can be traced back far into the history of Rome when cultural heritage was once merely considered the spoils of war.
The Romans adopted a "winner takes all" approach, in which anything of value they could get their hands on was shipped back to Rome as war booty. This plunder of Greek patrimony transformed Rome into the cultural and artistic center that is still revered today.
Although aesthetic pleasure was often the motivation of ancient actors, in more recent history, political and economic objectives are the catalysts in cultural heritage destruction. Tompkins discusses how Serbia's program of ethnic cleansing contributed to the decimation of Dubrovnik's Old Town, and how financial strife led to the looting of the Iraqi National Museum following the U.S. invasion. The perpetrators of these crimes were unconcerned with the immense value possessed by those buildings and objects, as they were seen only as political tools and monetary gain.
Measures such as the 1954 Hague Convention for the Protection of Cultural Property in the Event of Armed Conflict were enacted to combat art crime during conflict, but Tompkins notes that without proper enforcement of these laws, there is little to deter criminals from targeting our heritage. Tompkins points out that only three cultural property cases secured convictions under international law: Nazi looting during the Nuremberg Tribunals; cultural destruction at the International Criminal Tribunal for the former Yugoslavia; and targeting of religious sites in Mali by the International Criminal Court.
Considering the long history of cultural destruction, Tompkins argues we must do more to protect our history before it becomes another casualty of war. Plundering Beauty is an essential read to understand how cultural heritage has too often been caught in the crossfire.
You can purchase Plundering Beauty and support the Antiquities Coalition's efforts using Amazon Smile.
---
Ali Tyler is an intern at the Antiquities Coalition and a student at George Washington University, where she studies art history. If you are interested in interning at the Antiquities Coalition please send a resume and cover letter to cultureunderthreat@theantiquitiescoalition.org.