Manhattan DA Moves To Return Looted Persian Masterpiece: Update
July 27, 2018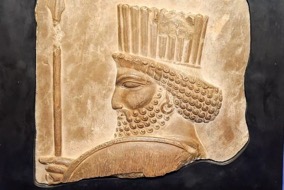 A Persian bas-relief dating to 500 BCE and valued at $1.2 million will be heading home to the Islamic Republic of Iran after more than eighty years. In July 2018, a New York Supreme Court judge ruled in favor of a May 2018 petition filed by the New York District Attorney's Office, which argued that a purchase without "reasonable inquiry" into an object's provenance cannot be in good faith. The Persian Guard Relief's owners seemed to have followed the "don't ask, don't tell" rule of antiquities acquisitions: do not ask questions about an object's legality if the answer is undesirable. However, the court's ruling demonstrates ignorance is no longer an acceptable excuse in retaining ownership of an object.
Our previous post about the Persian masterpiece discusses its long and troubling history. The ancient relief was first taken from the World Heritage Site of Persepolis in 1935, likely from a frieze depicting a military procession. It is then believed to have traveled to New York before entering the collection of Montreal's Museum of Fine Arts in 1951, only to be stolen again from the museum in 2011. In October 2017, the relief resurfaced at the European Fine Art Fair in New York, where questions about the artifact's murky past led to its seizure. Hopefully, the relief's return home will mark its final journey.
Learn more about the efforts of the Manhattan District Attorney's Office to combat the illicit antiquities trade through our interactive timeline.