Palmyra's Arch Frames Democratic Traditions in the Capital
September 28, 2018
On the Mall amid institutions and museums and with the Capitol as a backdrop, on September 26, 2018 the Institute for Digital Archaeology (IDA) unveiled a reconstruction of Palmyra's lost arch.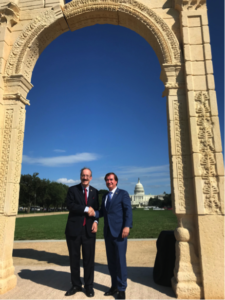 The original arch was destroyed in 2015 by Daesh (ISIS), making international headlines and underscoring how extremism threatens vital chapters of our global history and heritage.
This reconstruction was created using 3-D scanning, printing, and carving technology. The IDA's reconstruction, carved from the same marble as the original, is an international symbol of resistance and fortitude in the face of extremist groups. This reconstruction has been displayed in New York City's City Hall Plaza, London's Trafalgar Square, the G7 Summit in Florence, Italy, and at Dubai's World Government Summit. Most profoundly, the arch was also unveiled in Arona, Italy by the sons of Khaled al-Asaad, chief archaeologist of Palmyra, who was murdered by Daesh terrorists in August 2015 at the age of 83.
In his speech at the unveiling ceremony, Roger Michel, Executive Director of the IDA, remarked that the reconstruction brings lost monuments back to life. He declared:
"Now the arch, quite fittingly, has made its way to the place that symbolizes democracy worldwide, Roman-style representative democracy that is celebrated, not just in the classical buildings that surround us, but also in the design of Palmyra's monumental classical arch, as well. They all share the same DNA, and remind us that what happens here – what our honored guests do every day in that iconic building framed by the arch behind me – connects us to ancient traditions that have survived throughout the millennia because there is something about them that is worth preserving– just like it is worth preserving the ancient objects that embody and recall the history of that legacy."
With its Roman columns alluding to an ancient representative democracy, the arch now frames the United States capitol. Fittingly, Representatives Ed Royce (R-CA) and Eliot Engel (D-NY), two longtime advocates for the protection of global cultural heritage, provided remarks at the unveiling. The two Congressmen have sponsored key bipartisan legislation to protect and preserve cultural heritage and to cut off terrorist financing from looted antiquities. Their bipartisan achievements in the cultural protection realm include legislation such as 2016's Protect and Preserve International Cultural Property Act.
Find more information on the demand for Palmyra's looted antiquities here.