The AC Digs Into: The Little Old Lady Who Broke All The Rules
August 13, 2018
Looking for a whimsical, adventurous read that digs into the world of art crime? Look no further than The Little Old Lady Who Broke All the Rules (2016) by Catharina Ingelman-Sundberg, a former marine-archaeologist, and museum curator.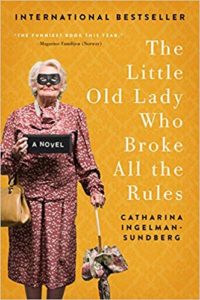 Set in Sweden, The Little Old Lady Who Broke All the Rules follows 79-year-old Martha Anderson, a Swedish pensioner with a knack for art crime. When Martha speaks out against her nursing home's refusal to provide adequate food and medical care, she is quickly shut down with a heavy concoction of sedatives. However, Martha's stubbornness forces her to take matters into her own hands; Martha gathers her closest friends and creates the League of Pensioners, a group dedicated to art crime. And of course, all proceeds go to the "Robbery Fund," a stash of illicit money sent to nursing homes around Sweden.
For their first major heist, the League targets a pinnacle of Swedish national heritage: the National Museum in Stockholm. On a calm morning, the five pensioners sneak into the museum and, after creating diversions and red herrings, steal Renoir's Conversation: An Impression from Paris and Monet's From the Mouth of the Scheldt. While alarms blaze and security officers panic, the League of Pensioners calmy stroll down the grand stairways and out the main doors.
With the police hot on their trail, as well as the Swedish mafia and an escaped convict, Martha and the League of Pensioners, have a tough choice to make: return the priceless paintings, or cash in on their robbery? Could they choose to do both? Take a dive into Swedish art crime and find out for yourself.
You can purchase The Little Old Lady Who Broke All the Rules and support the Antiquities Coalition's efforts using Amazon Smile.