New Orleans Cemeteries Thefts are Case Study for Delegation Combating Trafficking in Antiquities
August 15, 2017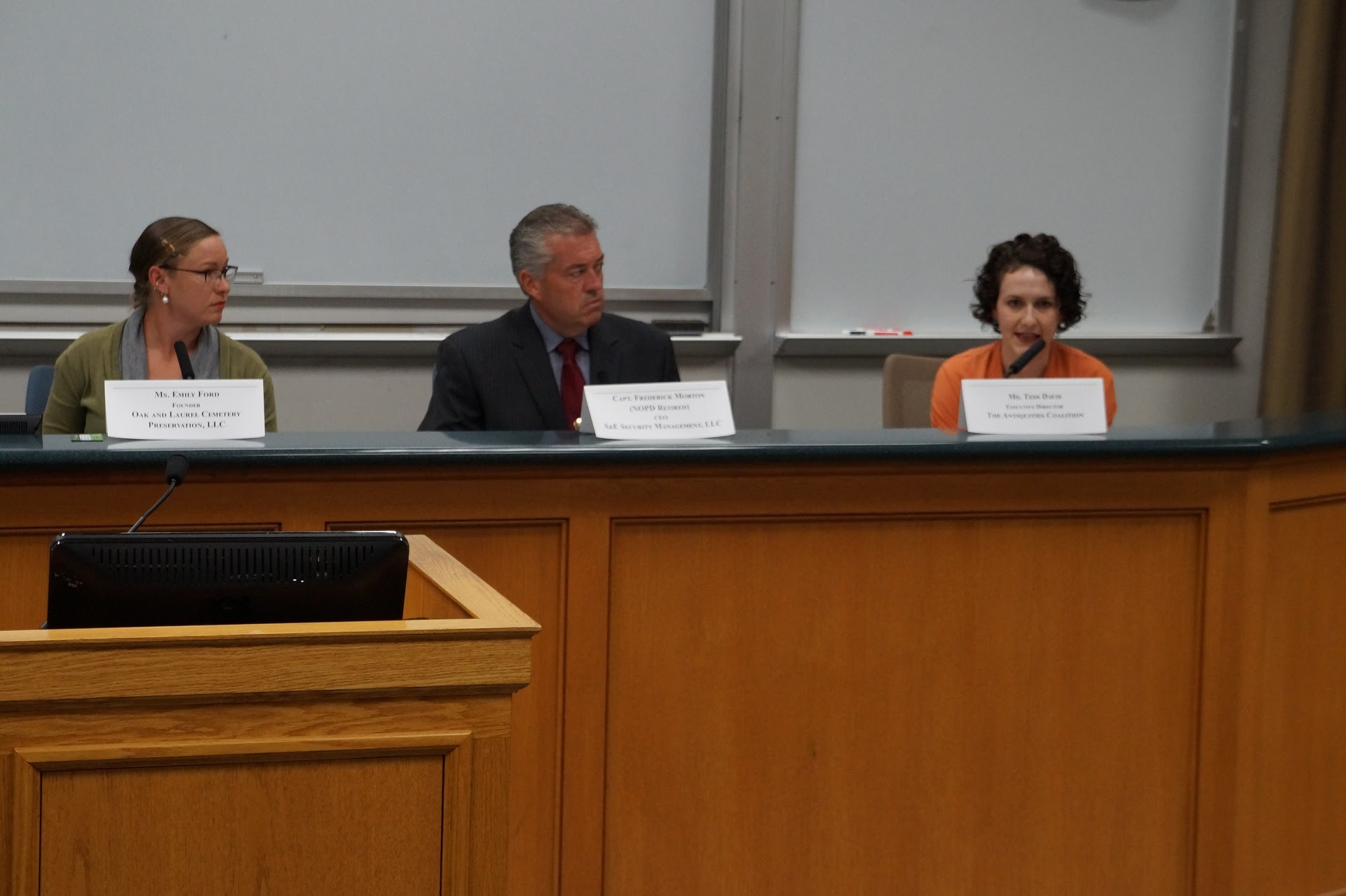 From July 25-29 a delegation of 17 museum curators, archeologists, and others traveled to New Orleans through the U.S. Department of State's International Visitor Leadership Program with the theme "Combatting Looting And Trafficking In Conflict Antiquities." On July 27 a panel discussion at Tulane Law School on "New Orleans Cemeteries Thefts: Lessons Learned" provided a local example of methods to prevent looting and trafficking of cultural heritage.
The panelists included Capt. Frederick Morton (NOPD Retired), who investigated the ring of thefts from New Orleans cemeteries in the late 1990s; Ms. Emily Ford, Founder of Oak and Laurel Cemetery Preservation, LLC; and Ms. Christine Halling, Archeologist with the Louisiana Attorney General's Office. It was moderated by Ms. Tess Davis, Executive Director of the Antiquities Coalition.
From the discussion the delegation learned about the thefts of statues, urns and other objects from New Orleans area cemeteries and the subsequent state laws enacted to prevent the sale of stolen items. The panelists credited the reduction of thefts and increased public awareness of the issue to active citizens, dedicated law enforcement, and the vigilance and persistence of the tomb owners. Capt. Morton stressed the importance of engaging the media to promote publicity of the thefts and emphasizing the strong emotional attachments of the families to the stolen artifacts. Ms. Halling acknowledged that e-commerce sites can serve as easy way to traffic stolen items, but can also serve as a tool to help locate them. And Emily Ford discussed her work with individual tomb owners and the Archdiocese in providing involvement and oversight in tomb care and inventory.
In addition to the panel discussion, the delegation enjoyed Presentation on "Art Law and Cultural Property Law" by Mr. Herbert Larson, Professor of the Practice and Executive Director, International Legal Studies and Graduate Programs and Tess Davis. Professor Herb Larson discussed art law and cultural property law, and Ms. Davis talked about her work in combating trafficking in antiquities on behalf of the Antiquities Coalition. They discussed the recent Hobby Lobby case in which the arts and crafts chain agreed to pay $3 million fine to settle a federal case over smuggled Iraqi antiquities it purchased.
In addition to the sessions at Tulane Law School, the delegation enjoyed a New Orleans city tour, a visit to the New Orleans Museum of Art with Director Susan Taylor, and a meeting at the National World War II Museum with Ms. Erin Clancey, Director of Curatorial Services, Ms. Toni Kiser, Assistant Director of Collections Management, Ms. Kimberly Guise, Assistant Director of Curatorial Services.