Navegue por el mapa interactivo de la cuna de la civilización brutalmente destruida por el EI
February 20, 2016
Navegue por el mapa interactivo de la cuna de la civilización brutalmente destruida por el EI
Publicado: 20 feb 2016 01:54 GMT
Una organización publicó el mapa de los lugares culturales e históricos que han sido destruidos o que están amenazados por los grupos terroristas.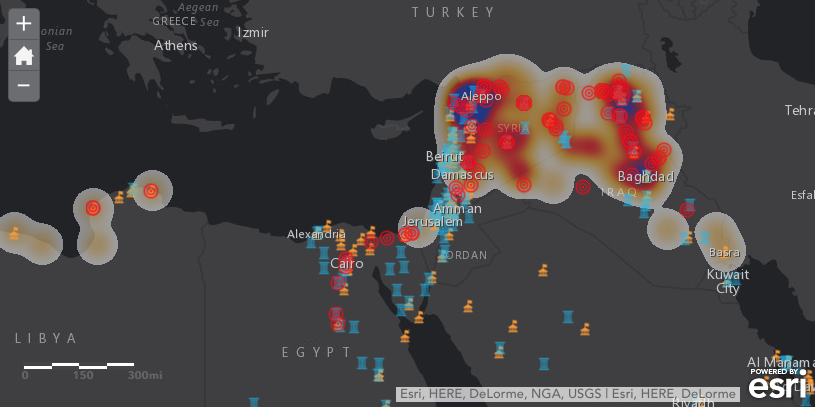 Un mapa interactivo realizado por la organización The Antiquities Coalition muestra el destructivo impacto provocado por el ascenso del Estado Islámico sobre el patrimonio cultural e histórico de Oriente Medio y el norte de África.
Estas imágenes dejan "en evidencia que gran parte de nuestro pasado, la cuna de la civilización, se encuentra en peligro inminente de destrucción. Lugares, monumentos u objetos de valor incalculable y milenios de historia han sido destruidos o están en peligro", alerta la organización con sede en Washington, EE.UU.
El plano muestra las zonas que están bajo amenaza o control del Estado Islámico y otros grupos terroristas (color amarillo); sitios de patrimonio cultural que han sido atacados o destruidos (rojo), y los museos y lugares declarados Patrimonio de la Humanidad de la UNESCO en esa región del planeta (anaranjado y azul respectivamente).
Unos 700 sitios de interés cultural e histórico en 22 países han sido destruidos o damnificados, lamenta The Antiquities Coalition, condenando que los actos más perversos de profanación que el EI ha perpetrado fue la destrucción de las antiguas ciudades asirias de Nimrud y Dur-Sharrukin, en Irak; así como la devastación de la antigua ciudad de Palmira, en Siria.
PDF of the article here