Live Expert Panel: The Art of Pandemic Museum and Site Security
June 9, 2020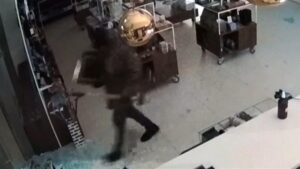 One early morning this March, thieves snatched Van Gogh's "Spring Garden" from a Dutch museum. They used two tools to break in and grab the valuable work: a sledgehammer and the COVID-19 outbreak that closed the museum just weeks before. The crime illustrates a new danger to cultural heritage around the world amid the spread of the coronavirus.
Most museums and other cultural sites are now operating on skeleton crews. At the same time, the virus has taken the lives of security staff, while law enforcement around the world has understandably shifted to health-related priorities. From the lockdown's earliest days, experts warned that art crime would rise with the pandemic. Now, looting and thefts may be underreported due to lack of staff. How can cultural institutions safeguard their collections — and archaeological sites do the same for pieces yet to be uncovered — during an unprecedented public health and economic crisis?
International experts will appraise the threat and explore cutting-edge strategy in our free webinar "The Art of Pandemic Museum and Site Security." Leaders in the field will share their experience and insight in this live collection security deep-dive.
Speakers include: