Law Enforcement Focuses on Asia Week in Inquiry of Antiquities Smuggling
March 22, 2016

Law Enforcement Focuses on Asia Week in Inquiry of Antiquities Smuggling
By TOM MASHBERGMARCH 17, 2016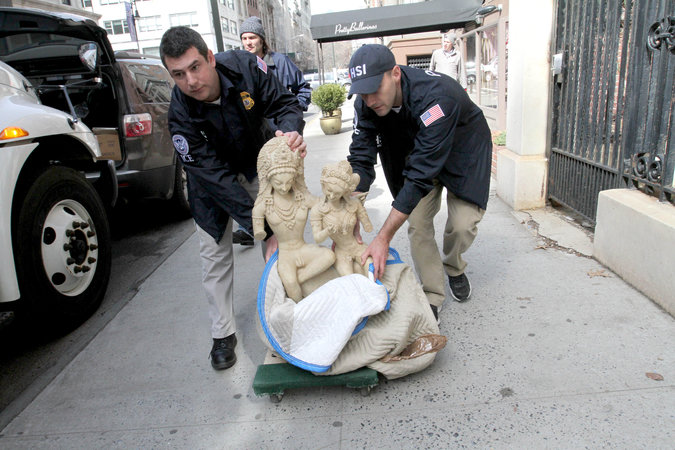 Homeland Security Investigations officers removing a piece of art on Wednesday from a gallery on East 67th Street in Manhattan. CreditTina Fineberg for The New York Times
In the seven years since its founding, Asia Week New York has grown from a small promotional effort by a few Manhattan art galleries to a splashy, 10-day event that combines museum exhibitions with art dealing. Last year, organizers say, it led to $360 million in sales.
But this year, Asia Week, which ends Saturday, has become the focal point of an aggressive and unusual law enforcement effort.
Federal officials working with the Manhattan district attorney's office have seized on the festival to orchestrate a series of daily raids that have netted more than a half-dozen antiquities that the authorities say were looted overseas, then smuggled out for later sale by auction houses or dealers.
"For too long, those engaged in the criminal trade in antiquities have viewed the occasional seizure as simply the cost of doing business," said Matthew Bogdanos, the assistant Manhattan district attorney who obtained search warrants for the raids.
But the seizures have upset dealers who say the sudden confiscations are a heavy-handed approach. Lark Mason, an Asian antiquities expert and dealer who is chairman of Asia Week, said gallery owners are ready to work with law enforcement when questions arise about objects.
"Why are they not approaching these galleries instead of treating them like criminals trying to do something underhanded," he said. The items seized this week were all publicized by their vendors online and in catalogs, he said, not sneaked "in to be sold in some smoky back room."
The seizures are part of Operation Hidden Idol, a nine-year investigation into antiquities smuggling that officials say has netted more than 2,600 items and reams of data about illicit trafficking. Typically, the authorities say, the smugglers create false paperwork to certify an object was acquired lawfully, often fooling purchasers and other dealers down the line.
The Manhattan district attorney, Cyrus R. Vance, said the raids ensured that items could be confiscated and that alerting dealers beforehand might send the objects underground. Many seized items have been returned to their countries of origin, Mr. Vance added.
Late Thursday, Homeland Security Investigations agents and the district attorney's office added to their tally of confiscations by seizing several items from the Nancy Wiener Gallery on East 74th Street, which specializes in Asian objects. Officials said they removed a limestone sculpture of Hindu deities valued at $35,000 and a bronze Buddha worth $850,000, as well as business records.
Seizures cannot be good for the Asian antiquity market. But it is not clear what impact they are having this week on sales, gallery owners said. Many collectors are savvy and familiar with widespread reports about Subhash Kapoor, a former Manhattan dealer who is accused of having run the largest antiques smuggling operation ever uncovered in the United States.
Mr. Kapoor primarily dealt in objects from South Asia — India, Pakistan and Afghanistan in particular — and those are the sorts of items that have been seized in the past week by agents from Immigration and Customs Enforcement's Homeland Security Investigations. There have been fewer reported instances of stolen antiquities from Japan, China or Korea turning up in the United States.
"Historically, Asian governments haven't monitored their antiquities in the same way" as nations like Italy, Greece, Turkey, and Egypt, said Leila A. Amineddoleh, the former director of the Lawyers' Committee for Cultural Heritage Preservation. "It makes them vulnerable."
Mr. Kapoor, who is awaiting trial in India, has been the pivotal figure in Operation Hidden Idol, and the sheer volume of illicit artifacts he is said to have donated or sold — hundreds are in museums around the world — has raised questions about the level of scrutiny being practiced in both the art market and the museum world. Museums in the United States, Australia and Singapore, among others, have returned items obtained from Mr. Kapoor, many valued at well above $1 million. The Antiquities Coalition, which fights illicit antiquities trafficking, said major dealers and auction houses have the resources to conduct due diligence and should coordinate more with law enforcement and source countries.
"The burden of proof should fall on these global businesses," said Deborah M. Lehr, the coalition's founder, "not on the individuals and countries who are victims of the illicit trade, to validate antiquities before any sale."
Some experts say many problems would be solved if law enforcement shared information about suspect items rather than publicized eye-grabbing confiscations. The Committee for Cultural Policy, an advocacy group for collectors, has called for a digital system under which museums and collectors could document items publicly and address foreign claims in a neutral forum.
"Instead of allowing auction houses, art dealers or collectors to research pieces beforehand, authorities wait for them to be offered for sale and then seize them with great fanfare," said Kate Fitz Gibbon, a lawyer for the committee. "The first anyone knows that an artwork is stolen is through a Homeland Security press release."
This week's seizures are far from the largest set of raids conducted by federal agents tracking illicit antiquities. In 2008, hundreds of federal agents swooped down on 13 locations in California with warrants for objects at institutions like the Los Angeles County Museum of Art and the Pacific Asia Museum in Pasadena.
The bulk of the items were from Southeast Asia, and the man accused of directing the smuggling ring was convicted last year of making false declarations while importing antiquities.
Cases that involve prosecution are rare, though, and penalties are often light. In one New York federal case, an antiquities dealer in 2012 admitted smuggling ancient coffins and funerary items worth $2.5 million into the United States using false documents. Though prosecutors asked that he be sentenced to at least four years in prison, the judge gave him 200 hours of community service and a fine of $200.
Mr. Bogdanos and Mr. Vance said stern justice must be meted out to antiquities smugglers and to anyone in the trade who falsifies documents that accompany items.
"If you don't send that message, you don't deter others," Mr. Vance said. "Antiquities raiding is not an acceptable business model."
Correction: March 22, 2016 
An article on Friday about seizures of antiquities by law enforcement officials during Asia Week New York, using information from the website of Leila A. Amineddoleh's law firm, misstated the connection of Ms. Amineddoleh, who commented on Asian governments' monitoring of antiquities, to the Lawyers' Committee for Cultural Heritage Preservation. She is a former director, not the current one.
PDF of article here