Landmark Agreement Between United States and Egypt Continues to Protect Priceless Antiquities
September 25, 2019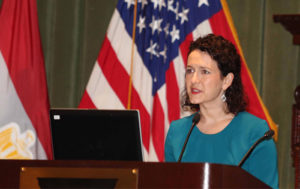 Increased cooperation between the United States and the Arab Republic of Egypt is leading to major successes in the fight against cultural racketeering, the illicit trade in ancient art and artifacts.
That was the message from the Antiquities Coalition's Executive Director, Tess Davis, as she spoke on September 23 to a full house of senior Egyptian diplomats, representatives from the business community, and other friends of the country.
Her remarks were part of "U.S.–Egypt Relations: Challenges and Opportunities," a panel discussion hosted by American Pulse at the New York City Bar Association, on the margins of the United Nations General Assembly Meetings. Other speakers included Ambassador Hisham Al-Naqib, Egyptian Consul General, Sherif Kamel, President of the American Chamber of Commerce in Egypt, and Tony Shaffer, a former senior intelligence officer in the U.S. Department of Defense.
Key Takeaways
U.S.-Egyptian partnership is critical to the fight against cultural racketeering: Egypt is home to one of the world's longest continuous civilizations, and the custodian of a rich cultural heritage, while the United States is home to 43% of the global art market. Therefore, by working together, they have a unique opportunity to make a major difference in the global fight against the illicit trade.
The 2016 U.S.–Egypt MOU is facilitating such joint action: In November 2016, then Secretary of State John Kerry and Foreign Minister Sameh Shoukry signed the first cultural property bilateral agreement between the United States and an Arab nation. This Memorandum of Understanding (MOU) provided a legal basis for the United States to close its borders to Egypt's illicit antiquities, which had been flooding the black market since the January 2011 Revolution. In addition, it encouraged cooperation and exchange—including U.S. support for Egyptian museums, exhibitions, capacity building, and safeguarding Egypt's cultural heritage—as well as increased loans from Egypt to U.S. museums.
This increased cooperation is leading to concrete results: On September 25, the Manhattan District Attorney's Office, U.S. Homeland Security Investigations, and the Metropolitan Museum of Art in New York would repatriate an ancient gold coffin to Egypt's Foreign Minister Sameh Shoukry. Criminals had looted the masterpiece during the chaos of the 2011 Egyptian Revolution, and then with forged papers, laundered it onto the heights of the New York art market. Its return was just one example of the type of cultural diplomacy made possible by the landmark 2016 MOU.
It is also inspiring Egypt's neighbors: While Egypt's MOU was the first between the United States and an Arab nation, it has not been the last. This historical agreement has also inspired several of Egypt's neighboring countries to follow suit. Libya and Algeria have signed similar agreements and others with key Middle and North Eastern countries are in the process. These agreements will help pave the way for future partnerships, making it easier to protect irreplaceable pieces of history and culture.