ISIS-Looted Art Is Finding Its Way Into the British Antiquities Market
July 9, 2015
ISIS-Looted Art Is Finding Its Way Into the British Antiquities Market
By Alanna Martinez • 07/09/15 9:30am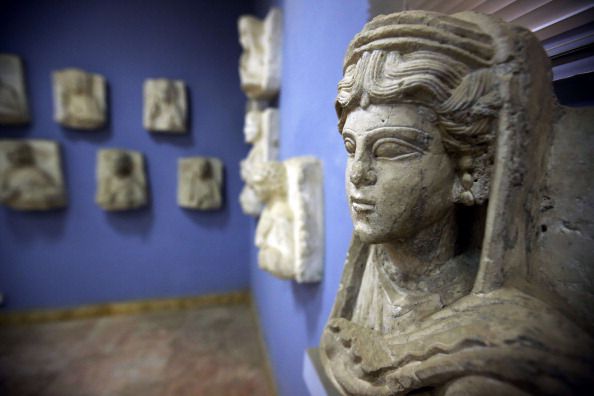 With ISIS aggressively moving into cultural heritage sites in Syria and Iraq, the world has been on high alert. Now, spoils from the ancient sites occupied by militants are creeping into the art and antiquities markets in London, according to a recent report from The Guardian.
Mark Altaweel, near-east specialist at the UCL Institute of Archaeology, went undercover as an antiquities collector for The Guardian, and reported spotting numerous objects he suspects were looted by ISIS at cultural heritage sites in occupied regions at London antiquities shops, many with little to no provenance records and touted as hailing from areas are far away as India.
But with spotty record keeping, and claims that objects in question hail from private collections in Jordan and Lebanon, how can buyers tell whether or not an object has been looted recently, or simply misrepresented?
"The industry runs on trust," Mr. Altaweel told The Guardian. "By not keeping any records, dealers make it easier for buyers to convince themselves there is no evidence of any wrongdoing."
Head of UNESCO, Irina Bokova, told the Royal United Services Institute in London last week, "This deliberate destruction is not only continuing, it is happening on a systematic basis. The looting of archaeological sites and museums, in Iraq particularly, has reached an industrial scale of destruction."
The report accurately notes that antiquities looting isn't a new phenomenon, and certainly not limited to ISIS. Investigations in the 1990s indicated that objects looted from the near east often moved through Turkey, Lebanon, Switzerland, Germany, and Italy.
Forensic archaeologist with the Scottish Centre for Crime and Justice Research Christos Tsirogiannis told the paper of record that objects were traded in European cities to create a paper trail for later sale at major auction houses. It is believed that similar trails are being established for ISIS-looted artifacts in Turkey and Beirut today, before they head to sale in London.
What is being done to combat the influx of untraceable antiquities into the market? Director of Art Recovery International Christopher Marinello says, "Reputable dealers and auction houses are doing the right thing and asking the right questions."
In May, The Antiquities Coalition, a nongovernmental non-profit dedicated to protecting cultural heritage, along with the Arab Republic of Egypt, UNESCO, and the Middle East Institute held an emergency conference in Cairo. The event brought together ministers from ten nations in the Middle East and Africa, and experts in archaeology, counterterrorism, law enforcement, and law to discuss ways to combat cultural racketeering. At the end of the conference, attendees issued the Cairo Declaration, which included future initiatives such as establishing a Cultural Racketeering Task Force for protecting cultural objects and repatriating stolen goods, along with an International Advisory Committee.
PDF of the article here