How Will COVID-19 Impact Cultural Racketeering?
May 15, 2020
The COVID-19 pandemic is more than just a health emergency. It is exacting a human and financial toll unprecedented in our lifetimes. Statistics worsen daily, but the virus has taken at least 290,000 lives, with over 4,200,00 confirmed cases reported. The International Monetary Fund also fears the cumulative loss of 9 trillion dollars to the global GDP over 2020 and 2021 —in what it calls the "worst economic downturn since the Great Depression."  
Our shared world heritage has not been spared. In The Art Newspaper, the Antiquities Coalition's Chair and Founder Deborah Lehr warned that in the fog of the pandemic, criminals are finding opportunities. Looters are taking advantage of the shutdown to pillage ancient artifacts from archaeological ruins, while art thieves target masterpieces in metropolitan museums. And while the coronavirus has largely shuttered above board dealers, galleries, and auction houses—the international black market stays wide open for business. 
Will COVID-19 have a lasting impact on the global trade in cultural property? At this time, there are more questions than answers, but both historical precedent and current indicators are sounding alarms: Now and in a post-pandemic world, criminals may pose an even greater threat to cultural sites and collections, while the legitimate art market will also face countless new ethical, legal, and practical challenges. 
Here are some of the developments we are following closely at the Antiquities Coalition. They point to an emerging and troubling double trend: On the antiquities black market, supply and demand could be on the rise.
From Grave Robbers to Art Thieves, New Opportunities for Cultural Racketeers
Most museums and other sites are now operating on skeleton crews. At the same time, the virus has taken the lives of security staff and crippled entire city police forces, while law enforcement around the world has understandably shifted to health-related priorities. As a result, from the lockdown's earliest days, experts warned that art crime would rise with the pandemic. Such fears were realized on March 30, when thieves stole Van Gogh's "Spring Garden" from a Dutch museum, on what would have been the artist's 167th birthday. There are likely other cases of thefts from museums that are not being reported due to lack of staff.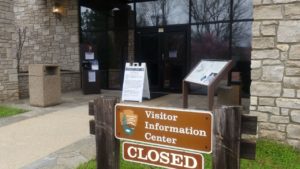 Archaeological sites may be even more at risk, given they are often larger and more remote than museums. In the United States, local and state governments, as well as the National Park Service, have now closed most park buildings and facilities and in some cases entire sites. While a necessary public health precaution, this could be a lucky break for criminals. For example, during the 2018 Government Shutdown, metal detectorists immediately targeted Gettysburg Battlefield for looting. 
If such a brief shuttering of Federal parks alone led to cultural racketeering in 2018, how bad is the situation now? Today's closures are global and many have no end in sight. Already, UNESCO warns 70% of countries have shut their World Heritage Sites. With tourists at home and policing down, criminals have free reign to engage in illegal metal-detecting and other illicit excavation. Indeed, U.S. "treasure hunting" companies are already advertising that "metal detecting is the safest thing you can do" in a pandemic. 
In addition to crimes of opportunity caused by the lockdown, the economic and political fallout from COVID-19 may also lead to an increase in crimes of financial desperation. There is historical precedent for looting escalating in the wake of financial crises. In Egypt, satellite data shows it more than doubled from 2009-2010 after the 2008 Financial Crisis, compared to 2002-2008. Levels doubled again from 2011-2013, following the Arab Spring. With the recent economic crisis in Greece, a similar rise occurred. Interestingly, looters active during this period were first-time offenders, as regular people began looking to antiquities for financial relief. This suggests that as the economic situation gets worse, looting will get worse too.
Traffickers Adjust Quickly, But Will Law Enforcement?
When looters reach ancient sites first, the only sign of theft is often an empty hole in the ground, making it difficult or impossible to calculate what has been stolen, when, or by whom. But even this is more hard data than we get on the next chapter in the illicit trade. So the troubling evidence showing a rise in trafficking is likely just the tip of the iceberg.
Like looters, smugglers are adapting, taking advantage of the global chaos. In Turkey, officials caught some impersonating health workers and even a virus patient. Archaeological watchdogs like the Antiquities Trafficking and Heritage Anthropology Research Project (ATHAR) have additionally reported a growing trend of posts in Facebook groups dedicated to the trade in pillaged cultural material. 
Even before the pandemic, there had long been a global shift to online selling across all types of markets, legal and illegal alike. We predict the coronavirus lockdowns will only speed up this existing trend. Moreover, with many countries banning travel visas, airline travel plummeting by as much as 90% from last year, and increased passenger screening for those who do fly, smugglers may prefer other means of getting artifacts from source to market. We thus expect a rise in trafficking through the post, other carrier services, and air or marine cargo. 
This presents at least one opportunity amid all the bad news: since online activity and much shipping leave a trail, these adaptations may make it easier for law enforcement and others to track and catch cultural racketeers. 
Museums Face Their Own Problems 
As previously mentioned, COVID-19 has increased the security risk for museums, but for many the crisis is now existential.
Arts and culture organizations across the United States alone are facing a collective loss of $4.5 billion due to the pandemic. The American Alliance of Museum Directors (AAMD) estimates that U.S. museums are losing a shocking $33 million per day, as doors remain closed and events are canceled, causing them to make significant cuts to budget and staff. 
These financial blows will force hard decisions. American museums are already discussing breaking their long standing policy against the deaccessioning (i.e. selling off) of their collections for operating cash. Institutional bylaws, industry guidelines, and some state law have previously discouraged or outright prevented this practice. However, if the coronavirus undoes these rules, it could put more of our public heritage into private hands—including antiquities acquired under circumstances that would be considered unethical, or even illegal, today. 
The Art Market: Down for Some, Up for Others
COVID-19 has also hit the art market hard. Galleries across the globe have reported an expected 72% loss in annual revenue, while 33% say they will not survive the crisis. Major art fair cancellations and extended closures have likewise led to budget cuts and staff layoffs.
But just as despite the recent market crash stocks are rising from Amazon to Zoom, COVID-19 has proved an opportunity for some. 
At least one prominent dealer is encouraging collectors to buy ancient Egyptian, Greek, and Roman antiquities by promising to donate 20% of their value to medical charities. (This same gallery has previously sold items since linked to convicted criminals Giacomo Medici and Gianfranco Becchina). 
Moreover, according to a March 16 article in Bloomberg, "The business of providing credit against Picassos and Warhols is expanding even as the art market grinds to a halt," with some interviewed claiming their business had already doubled. Such "art financing" or "art lending"—loaning money against art or antiquities as collateral—was already skyrocketing before the coronavirus. Art-secured loans had reached at least $21 billion globally according to the 2019 Art & Finance Report by Deloitte. 
Unfortunately, given regulatory loopholes exempting art market actors from the U.S. Bank Secrecy Act (the country's primary statute on financial crimes), such transactions are particularly vulnerable to abuse by those seeking to launder money or evade sanctions. We thus hope these developments give increased momentum to Congress' bipartisan push to tackle financial crimes in the art market, similar to action already taken by the United Kingdom and European Union.  
As an industry that has long thrived on discretion—some would say outright secrecy—the full impact of COVID-19 on the art market may remain in the shadows. However, there is reason to expect an upswing in transactions: Individual collectors in need of hard cash may be forced to sell off their works, while some investors may seek to dump volatile stocks for tangible assets like cultural property. Indeed, industry leaders are hoping the market will rebound quickly when the world reopens for business, based on its fast recovery after the 2008 Great Recession.
In many ways, a strong legitimate market is the best defense against a strong illicit market. However, it is critical that in these understandably desperate times, collectors, dealers, galleries, auction houses, and museums remain vigilant. Cutting corners in the short term will only increase their risk in the long term, undoing decades of progress by industry leaders. 
Looking Forward
Taken together, these snapshots paint a troubling picture, including the real possibility that the pandemic will lead to a boom in both the supply and demand of illicit antiquities and artifacts. 
Whether or not cultural racketeers do succeed in this post-COVID world will hinge on how governments, law enforcement, museums, and—perhaps most of all— responsible players in the art market rise to these new challenges. 
In the days, months, and even years ahead, it will be critical that we all work together to protect our shared world heritage and the legitimate art market from criminals who seek to capitalize on this global crisis.