House Homeland Security Committee Report Released on Daesh's Financial Infrastructure
October 13, 2016
The Antiquities Coalition commends the House Homeland Security Committee Majority Staff for working to raise awareness of the proven connection between cultural racketeering and terrorist financing through their new report Cash to Chaos: Dismantling ISIS' Financial Infrastructure.
According to this October report, Daesh (also known as ISIS) is now the richest terror group in history, with an estimated annual revenue of $1 billion dollars. Cash to Chaos explores how Daesh earns this money, and then provides 14 recommendations to disrupt these funding streams.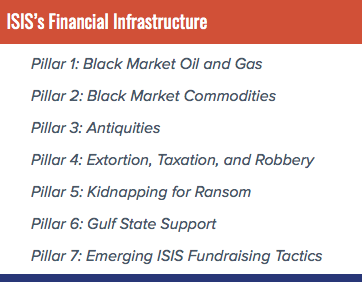 It finds that Daesh's military "strength rests on seven key funding pillars," with the illicit trade in conflict antiquities providing "a significant source of terrorist revenue."
In fact, Cash to Chaos lists antiquities looting and trafficking as Daesh's "Third Pillar" of terrorist financing, along with the black market trade in oil, gas, and other commodities, extortion, taxation, robbery, kidnapping for ransom, foreign donors, and emerging fundraising tactics such as online donations and crowdfunding. 
However, despite the importance of cultural racketeering to Daesh's financial operations, the report warns that "domestic and international law enforcement agencies have not put high-enough priority on tracking black market sales of cultural artifacts and antiquities." 
Among other recommendations, it urges:
The Departments of State, Justice, and Homeland Security [to] in conjunction with INTERPOL and other relevant international organizations, as well as auction houses, spearhead a new initiative to crack down on illegal trade and trafficking in cultural property and antiquities in the United States and abroad.  As part of this effort, various stakeholders should strengthen regulations that restrict the movement of artifacts smuggled out of war zones and take aggressive action to recover and return items to their respective countries of origin. The Committee is supportive of the approach taken in H.R. 2285 (Rep. William Keating D-MA), the Prevent Trafficking in Cultural Property Act, and urges the Senate to act on this bipartisan House-passed measure as soon as possible.
Cash to Chaos follows the release of the Culture Under Threat: Recommendations for the U.S. Government, published by the Antiquities Coalition, Asia Society, and Middle East Institute in April of 2016. This report put forward 31 specific recommendations to address the use of cultural racketeering as a terrorist financing tool, and like Cash to Chaos, calls on the Departments of Homeland Security, Justice, and State to close U.S. borders to conflict antiquities from Iraq, Syria, and beyond.
This is a significant step forward and it is important to continue coordinating efforts to cut off all sources of financing to violent extremist organizations.