FBI Issues Rare Warning to Art World: "Terrorist Loot" from ISIS Reaching US Market
August 27, 2015
In response to growing evidence that the illicit antiquities trade is directly financing terrorist networks — especially the Islamic State in Iraq and the Levant (ISIL), also known by its acronyms ISIS or Daesh — the United States Federal Bureau of Investigation has issued a rare alert to the art market.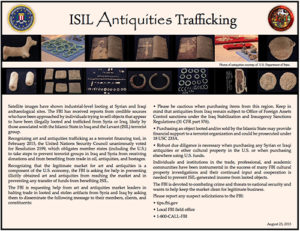 Organized criminals, armed insurgents, and terrorists have long profited from such cultural racketeering. However, under ISIS' black flag, it has become not just a side enterprise, but a massive illegal industry. In yesterday's statement, the FBI reveals it has now received "credible" reports that artifacts looted by ISIS are reaching the US, and cautions that collectors and dealers who purchase them may be funding weapons of troops that seize cities, slaughter soldiers, and behead civilians. The bureau calls on the art world's leaders to help them keep these conflict antiquities off the market. It also warns that those dealing in such items may be subject to sanctions under the Iraq Stabilization and Insurgency Sanctions Regulations (31 CFR part 576), and more seriously, prosecution under 18 USC 2339A for providing financial support to terrorist organizations.
This commendable action by the FBI — which to our knowledge is unprecedented — further confirms that the illicit antiquities trade is funding crime and conflict around the globe. The FBI is not alone in recognizing the severity of this threat to our heritage and security: the Antiquities Coalition was first created to combat this crisis. As part of this work, next month we will join the Asia Society, Middle East Institute, and UNESCO in hosting a high level forum on terrorist financing. "Culture Under Threat" will convene during the 70th Session of the United Nations General Assembly, and bring together the very policy makers and experts who can cut off ISIS profits from cultural racketeering.
Read the FBI's Warning In Its Entirety Here