"Extremists Are Intimidated by History Because it De-legitimizes Them"
September 28, 2015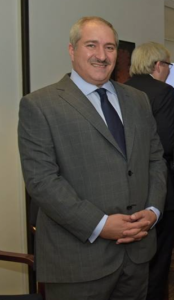 By: Peter Herdrich, Co-Founder, The Antiquities Coalition
This quote is one of the best explanations to a seemingly unanswerable question- why do the criminals and murderers of Daesh resort to cultural cleansing, destroying historic sites, monuments, and objects while killing citizens, throughout the Middle East? It comes from the Deputy Prime Minister and Foreign Minister of Jordan, Nasser Judeh. He offered the answer at the Antiquities Coalition's "Culture Under Threat" forum on September 24, sponsored with our partners at the Asia Society, the Middle East Institute, and UNESCO. "These extremists are intimidated by history, because it de-legitimizes them," Minister Judeh said. "It is true. History de-legitimizes them and therefore, in order to try to claim some sort of legitimacy, they have to destroy history and destroy what history represents."
It's a powerful quote. Newsweek used it in their excellent coverage of the forum and it was picked up on a couple of Twitter feeds as well. As concise and memorable as this quote is, a Bartlett's-ready epigram seemingly wrought for editorialists and speakers seeking a reason why the terrorists do what many of us find unthinkable, it wasn't the Minister who turned this phrase at all. And he's happy to admit it.
The real author of this quote is not Minister Nasser Judeh. It's Tariq Nasser Judeh, his son. At the Asia Society, Judeh pere explained that Tariq is a student of ancient Mediterranean civilization. Without mentioning his son's name, the Minister said that before his speaking engagement at our "Culture Under Threat" forum, he called Tariq to ask what he thought about "the destruction of what belongs to humanity."  It was then that Tariq said, "Extremists are intimidated by history, because it de-legitimizes them." The Minister was rightfully impressed, and even joked that his son's remark gave him his introductory remarks for the event.
Knowing a good line when he's got one, Minister Judeh repeated it at the presentation of the "Culture Under Threat: An Imperative for Humanity" initiative launched by Jordan, Italy, UNESCO, UNODC, and Interpol at the United Nations on Sunday, September 27. I attended with my Antiquities Coalition colleagues Deborah Lehr and Tess Davis at the invitation of the Italian delegation. At its conclusion, I sought out the Minister to get his son's name and sort this out.
A proud father greeted my question about the proper attribution for the quote. Minister Judeh was pleased to tell his son's name is Tariq Nasser Judeh and that he is 21-years old and studies ancient Mediterranean civilization in Scotland. With paternal pride he gave all credit to Tariq for this insight and even wrote the quote out for me to insure that I got it right.
So, kudos to Tariq Nasser Judeh for turning such a perceptive phrase. Recall that it was he who said, "Extremists are intimidated by history, because it de-legitimizes them." And think about Tariq's insight, what it means, and most importantly, what we need to do to stop cultural cleansing.
To see the video of Minister Judeh on the origin of the phrase, click here for the complete coverage of the Culture Under Threat Forum on the Antiquities Coalition's YouTube Channel. The story begins at 40:42.