Egypt Celebrates the Return of Antiquities Seized During Investigation by U.S. Authorities
December 2, 2016
The end of 2016 has been marked with major successes for Egypt's cultural heritage. Egypt has celebrated the repatriation of antiquities from France, Jordan, Switzerland, and now the United States. On December 1, 2016 the Egyptian Embassy in Washington, DC hosted a repatriation ceremony to celebrate the return of artifacts seized at the U.S. border by Department of Homeland Security Immigration and Customs Enforcement.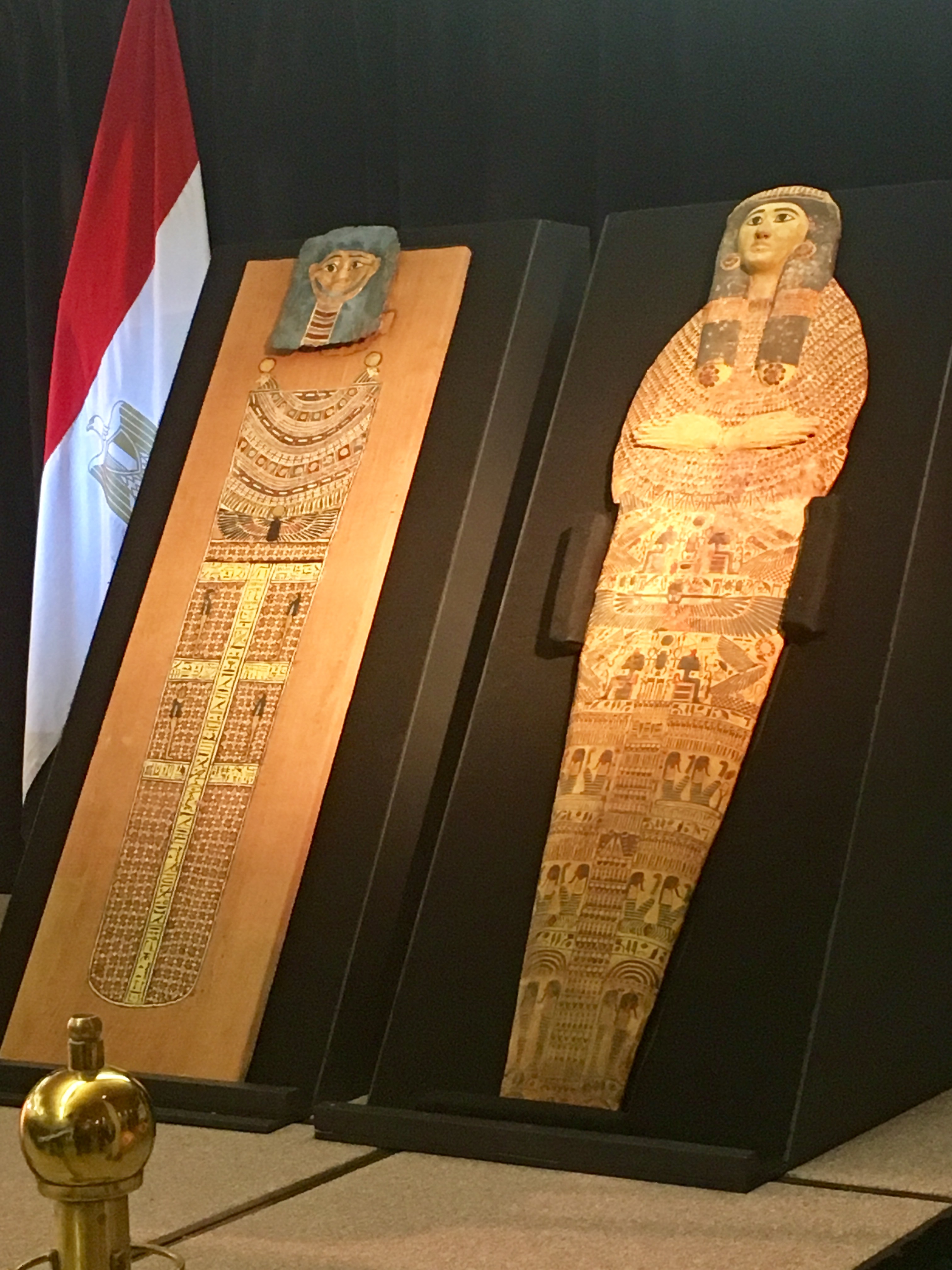 The repatriation ceremony was attended by Egypt's Foreign Minister Sameh Shoukry, who just one day before joined Secretary of State John Kerry to sign a cultural memorandum of understanding (MOU) between the United States and Egypt. The landmark bilateral cultural property agreement with the United States is the first of its kind that the U.S. has signed with a country in the Arab World.
The MOU comes after more than two years of negotiation as Egypt faces a heritage crisis. At the repatriation Foreign Minister Shoukry noted, "…There are evil forces trying to use these antiquities for profit … We are defending a history that serves as a wellspring for civilization."
The event was presided over by Foreign Minister Sameh Shoukry, Ambassador of the Arab Republic of Egypt to the United States Yasser Reda, Director of U.S. Immigration and Customs Enforcement Sarah R. Saldaña, and Assistant Secretary of State for Educational and Cultural Affairs Evan Ryan. At the ceremony Saldaña officially transferred custody of Egyptian artifacts to the Ambassador Reda, marking the second such ceremony between the U.S. and Egypt in just two years.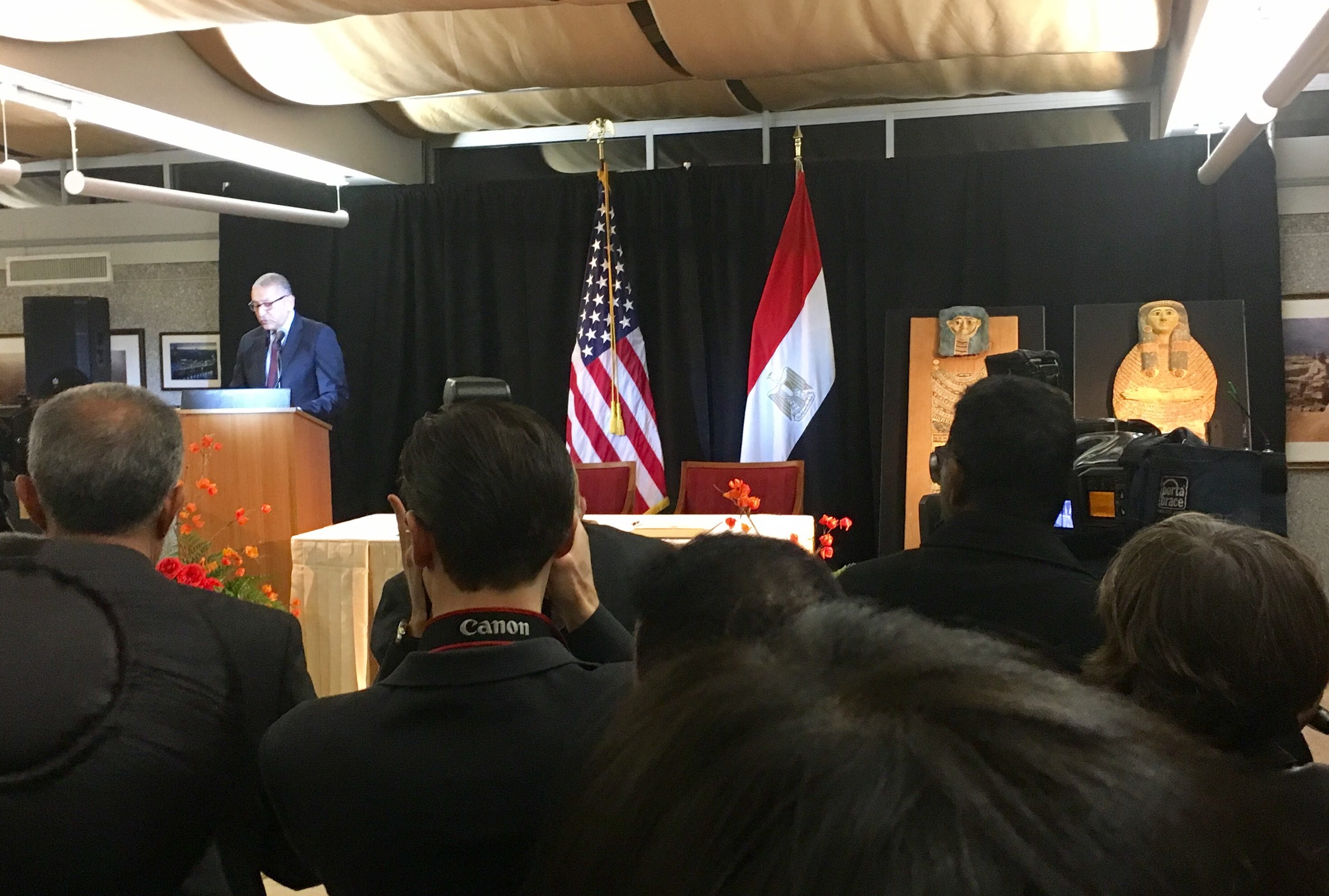 Ambassador Reda applauded the efforts of U.S. authorities in their investigations and return of Egypt's heritage, "Across the Middle East and North Africa, irreplaceable treasures are plagued by looting, illegal trade, and senseless destruction… There are times such as this when, thanks to the successful efforts of the Department of Homeland Security, historical treasures are returned to us and given a new life for the benefit of all."
In April 2015, Department of Homeland Security Immigration and Customs Enforcement returned artifacts to Egypt seized as a result of the "Operation Mummy's Curse" investigation. That investigation netted more than 7,000 artifacts from multiple countries, including Egypt, as authorities targeted an illicit trafficking network.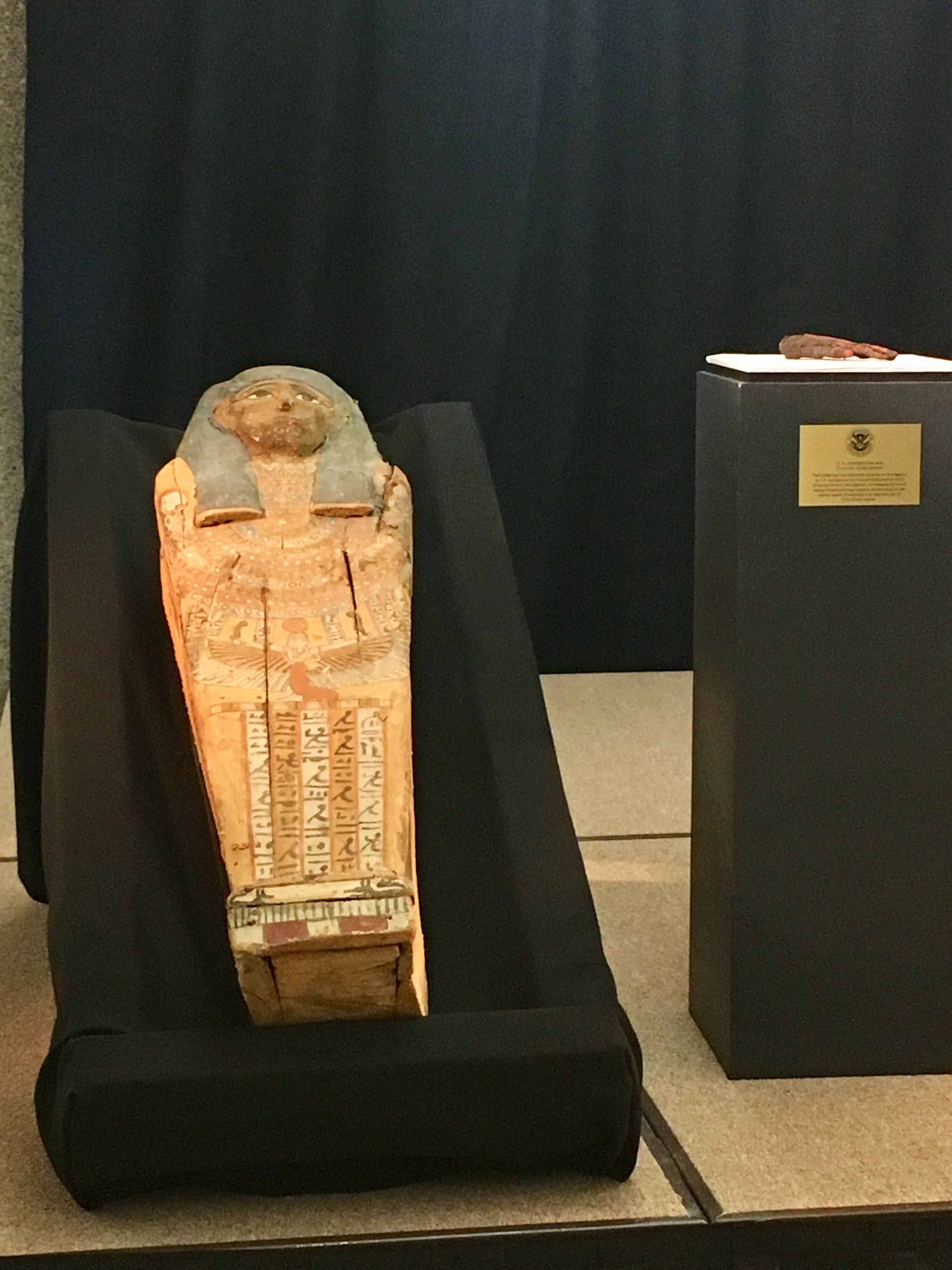 The artifacts returned at the Embassy on December 1 included a child's wooden sarcophagus, a linen mummy cover and a mummy's hand from the eighth century B.C. ICE Director Sarah R. Saldaña noted, "While we recognize that cultural property, art, and antiquities are assigned a dollar value in the marketplace, the cultural and symbolic worth of these Egyptian treasures far surpasses any monetary value to the people of Egypt."
The antiquities being repatriated were seized as a result of multiple investigations by Homeland Security Investigations (HSI). According to Bryan Lewis, the Homeland Security Investigations country attaché at the U.S. Embassy in Cairo, the investigations revealed that some of the funds and antiquities have been traced back to Egypt, the United Arab Emirates, Iraq, and France, as well as other nations.
This promises to be just one more event in an ongoing trend of repatriations as Egypt increases its efforts to seek the return of artifacts illegally trafficked out of the country. U.S. authorities have been ramping up their efforts to stop the import of these trafficked artifacts through U.S. borders as well. Department of Homeland Security Immigration and Customs Enforcement have returned more than 7,800 artifacts to over 30 countries, since 2007.