Digital Troves, Providing Insights and Reuniting Antiquities
September 8, 2016
Digital Troves, Providing Insights and Reuniting Antiquities
By EVE M. KAHN SEPT. 8, 2016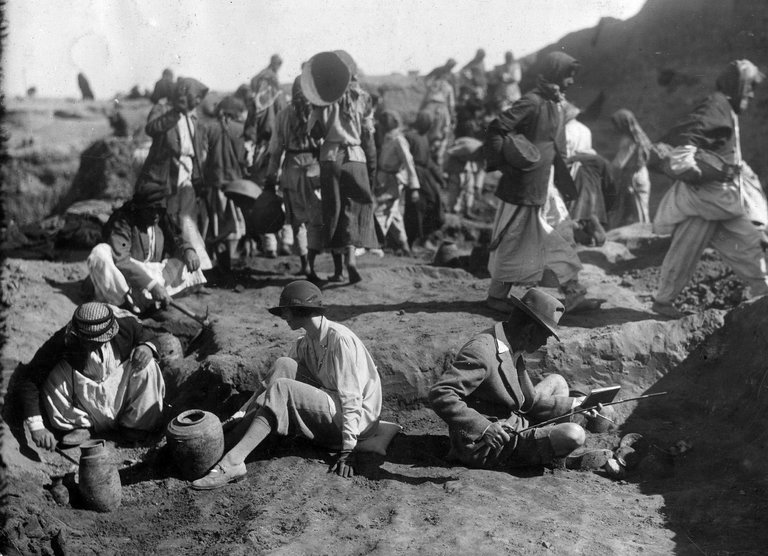 While documenting material looted in recent decades, databases of Middle Eastern archaeological artifacts are also shedding light on the lives of ancient rulers and poets as well as the Europeans and Americans who dug at historic sites nearly a century ago.
One of the most comprehensive efforts, the Cuneiform Digital Library Initiative, has posted images and searchable transcripts for more than 100,000 clay tablets, stone cylinders used to imprint personal seals and other objects inscribed with writing. They were produced as early as 3350 B.C., in languages including Sumerian, Hittite and Akkadian. The texts describe, among other topics, mathematical formulas and the misdeeds of gods; poetically lament the deaths of livestock; and record regulations for taxation, divorce and prostitution.
Robert K. Englund, the principal investigator for the cuneiform initiative, said that thousands of images and texts from institutions including the British Museum and the Louvre have been added in the last few years. The seals alone, he said, amount to "an unbelievable new robust field of inquiry."
The Ur Online database, a collaboration between the British Museum and the Penn Museum in Philadelphia, focuses on objects and human remainsfound in the 1920s and '30s in southern Iraq. Most of the material now belongs to the British Museum, the Penn Museum and the Iraq Museum; smaller collections are at institutions including the Metropolitan Museum of Art, the Nelson-Atkins Museum of Art in Kansas City and the Museum of Ontario Archaeology. The website amounts to a digital reunion for the antiquities originally brought together by the excavation team led by the British archaeologists Leonard and Katharine Woolley.
The excavation crew at Ur, a cradle of civilization, sifted through the ruins of dozens of graves and buildings each year. William B. Hafford, the project manager for Ur digitization at the Penn Museum, said Mr. Woolley kept somewhat imperfect records as the pieces were dispersed to institutions.
"It's surprising how much he sent out without official numbers," Mr. Hafford said.
Ur Online's researchers are tracking down artifacts, some of them forgotten and unlabeled in museum storehouses, and combing through photos, notes and sketches from the Woolleys and their colleagues. A few pieces from the Woolleys' trove, including gold vessels and terra-cotta figurines, were looted from Iraq's national museum around 2003 and have vanished.
Ur Online also documents the eventful biographies of the Woolleys, who married in 1927 while collaborating at Ur. Their friends and colleagues included Winston Churchill, T. E. Lawrence, Agatha Christie and Gertrude Bell, a British explorer, writer and diplomat who founded the national museum in Iraq. (Miss Bell, who committed suicide in Baghdad in 1926, is the subject of a new documentary, "Letters From Baghdad," and an exhibition at the Kirkleatham Museum in Redcar, England. Preservationists there are campaigning to turn her childhood home into a museum.)
Mrs. Woolley was known as a taskmaster, but she never sought much attention or credit for her accomplishments at Ur, and she left few writings to explain her motivations. Her papers were destroyed, at her request.
Mrs. Woolley's first husband, Bertram Keeling, a surveyor in Egypt, committed suicide in 1919. She married Mr. Woolley after some of his financial backers insisted that single women should not be allowed at the excavations, lest they distract the men. (The couple's marriage was apparently never consummated, at her insistence.)
Some of the Woolleys' theories about Ur discoveries have since been debunked. They speculated that corpses neatly arrayed in pits, bedecked in gold headdresses, were the remains of people who had agreed to be sacrificed and taken poison.
Mr. Hafford said recent studies of the excavated bodies suggested that the people interred had actually been murdered; the skulls were smashed, and the bodies laid in rows and given luxurious jewelry.
In 1930, Christie, by then divorced, met the Woolleys' assistant, Max Mallowan, at Ur, and they married a few months later. Mrs. Woolley, who did not like having other women at the site, would not allow Christie and her new husband to keep working at Ur, and she inspired a moody and argumentative character in Christie's detective novel "Murder in Mesopotamia." In the book, the character's archaeologist husband bludgeons her to death with a grindstone.
Henrietta McCall, a curator at the British Museum who is writing a book about Mrs. Woolley and Christie, said Mrs. Woolley "utterly fascinated and thoroughly repelled people at the same time."
"Investigating Agatha Christie," an exhibition that explores that mystery writer's interest in archaeology, was shown this year at the Montreal Museum of History and Archaeology and is scheduled to travel in the next few years.
Mr. Hafford said that he had looked through Christie's writings for insights into the Ur digs. Ur Online, he added, will expand as more photos, drawings, documents and objects surface. The content is being linked to related databases, including the Cuneiform Digital Library Initiative.
Other searchable inventories keep popping up. The Squeeze Imaging Project, set up by the Freer Gallery of Art and Arthur M. Sackler Gallery in Washington, has posted images of paper pulp castings made from Arabic, Persian and cuneiform inscriptions at Middle Eastern archaeological sites. The German archaeologist Ernst Herzfeld, who spent years in Tehran, collected the castings from 1911 to 1934.
Peter Herdrich, a founder of the Antiquities Coalition in Washington, is helping create a new Digital Library of the Middle East, to serve as a centralized database for antiquities and books. A major goal would be to post inventories for institutions in regions threatened by religious extremists and armed conflict.
"You can't really protect what you have," Mr. Herdrich said, "unless you have a list of what you have."
PDF of article here