Did Hobby Lobby's C.E.O. Unknowingly Sponsor Terrorism?
October 29, 2015

Did Hobby Lobby's C.E.O. Unknowingly Sponsor Terrorism?
OCTOBER 29, 2015 10:04 AM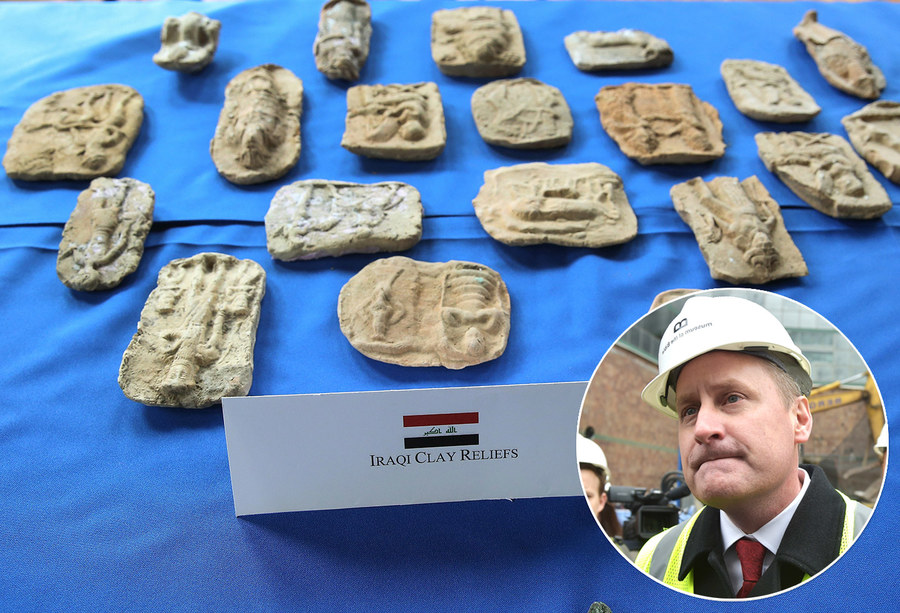 With nefarious groups raising millions of dollars by looting and selling antiquities, the crafting billionaire and ardent evangelical might have inadvertently financed their activities.
BY TINA NGUYEN

n Tuesday morning, the Daily Beast reported that Hobby Lobby's C.E.O. Steve Green, whose company successfully challenged Obamacare's contraception mandate on the grounds that it violated the owning family's religious beliefs, was being investigated for the allegedly illicit importation of biblical-era Assyrian and Babylonian artifacts into the United States.
The four-year investigation involves nearly 300 "small clay tablets" from what's now modern-day Iraq and Syria, bound for the Museum of the Bible, a multi-million-dollar complex in Washington, D.C. and scheduled to open in 2017, largely financed by the Green family, which owns Hobby Lobby and is worth an estimated $4.5 billion. But when the family tried to get the collections through U.S. Customs—having declared them, according to the Daily Beast, as "hand-crafted clay tiles" worth a collective $300—their actions triggered an F.B.I. inquiry. To date, the investigation is still ongoing, while a representative from the Museum of the Bible characterized the investigation as a problem spawned from "incomplete paperwork".
But antiquities experts raise another concern: that by purchasing this art in the first place, the Greens may have unknowingly sponsored military groups and terrorist networks like al-Qaeda, which has sold antiquities for more than a decade.
"Anyone who purchases an antiquity without being 100 percent sure it is a legitimate piece is risking funding organized criminals, armed insurgents, and even terrorist networks, whether they be al-Qaeda or ISIS," says Tess Davis, the executive director of the Antiquities Coalition, an organization devoted to combatting the illegal trading of artifacts.
The Islamic State, or ISIS, has engaged in the practice as it seized more territory from the Iraqi and Syrian governments and rebel groups, but dramatically scaled their activities: whereas al-Qaeda previously charged an extortion fee to looters, ISIS now controls more than 4,500 archaeological sites and controls the selling process. (In cases of the sites they don't directly own, they charge looters, who must get a written permit from ISIS, one-fifth of the eventual proceeds of the sale.)
Last February, the United Nations adopted a resolution stating that its members would seek to prevent terrorist groups, including ISIS, from profiting off these sales. According to Col. Matt Bogdanos, a single, four-inch cylinder seal from ancient Babylonia can sell for nearly $250,000 alone, and the U.N. ambassador from Iraq, Mohamed Ali Alhakim, estimated that ISIS earns more than $100 million per year antiquities trading.
Bogdanos is all too familiar with antiquities looting in Iraq: in 2003, he led the U.S. military's efforts to recover artifacts looted from the Iraqi National Museum in Baghdad after the fall of Hussein, and continues to work on cases involving stolen antiquities. But as he told VF.com in an interview, the law-enforcement community has been laser-focused on stopping antiquities trafficking for decades: "Just because we don't issue press releases or because you don't read about it, doesn't mean you don't have a series of [artifact] seizures and a series of convictions."
The Green family's shipment was seized in 2011—right around the beginning of the Arab Spring, but well before ISIS gained prominence and turned looting into a cottage industry by taking over archaeological sites and digging them for profit. But prior to that, says Bogdanos, al-Qaeda and the Baathist government of Saddam Hussein also looted antiquities for money, though not at the scale of ISIS—and if any antiquities emerged during the periods they were in power, the money "probably went to them."
Though he couldn't comment on the specifics of the Hobby Lobby case, Bogdanos says that in a hypothetical case, "if you have an antiquity that you can trace to Iraq and Syria, the question of where the money went is a fair, legitimate question, as long as you take into account two things.
"One is: there were intermediaries. There's no [art] owner in the U.S. that's giving to ISIS. They're giving money to the dealer, and the dealer gave money to the person who got it out of Lebanon, [for instance,] and that person gave money to the person who got it out of Syria, and thatperson gave it to ISIS. Money's money. It went through three or four sets of hands in between.
"Second, just because it's Babylonian doesn't mean it came from Iraq," he said. "A lot of conquerors have been through the area and have done their own looting over millennia." Citing the case of the Parthenon temple, the remnants of which currently reside in three different countries, Bogdanos says that it's possible that a shipment of tablets could have been looted hundreds of years ago.
Even if terrorist networks weren't involved in the sale, there's also the possibility of organized gangs: "When you're starting to see these major seizures in the U.S., it tends to be that they're working with organized gangs in-country to go out and look for specific items," says Deborah Lehr, Chair and Founder of the Antiquities Coalition.
And at the very least, there is a "bright line" rule, dating back to the 1970 UNESCO convention, that Davis says is generally accepted by the international art community: "You should not deal in antiquities that do not have a provenance before 1970. If they suddenly appear on the market since then, they should be treated as illegitimate."
According to the Daily Beast, the Green family met with a legal expert in 2010, who explained their need to perform "due diligence with regard to provenance."
"Hobby Lobby is cooperating with the investigation related to certain biblical artifacts," a Green family spokeswoman told VF.com on behalf of the company. "The Museum of the Bible is a separate not-for-profit entity made possible, in part, by the generous charitable contributions of the Green family."
PDF of the article here