Mapping threats to cultural heritage in the Middle East and North Africa makes it clear that much of our past, the 'Cradle of Civilization', is in imminent danger of destruction. With priceless artifacts and millennia of history lost and imperiled, teams of heritage experts in the Middle East and North Africa (MENA) region have been working tirelessly to track the scope of the plunder thus far. This map seeks to aid efforts to protect heritage by providing a foundation for identifying #CultureUnderThreat in the broader context of terrorist activity in the region. It shows, sadly, the clear march of destruction by Daesh and its sympathizers and illustrates where deliberate attacks on heritage are occurring and remain threatened. This phenomenon of heritage threatened by terror groups is not limited to the activities of Daesh. Cultural sites across the MENA region have been targeted by a variety of terror groups and violent extremist organizations across the Arab world. Although Daesh is capturing the headlines, they are just one of the many groups targeting heritage in the region.
Accompanying text and data review who the perpetrators are and how these activities are being carried out.
Click boxes to jump to sections 
This map is interactive and user friendly, it is designed to be explored and clicked throughout and can be accessed using all browsers, computers, tablets and smart phones.
To zoom, click the "+" or "-" buttons on the map – please note zooming will not increase the size of the icons. Additionally, the heat map is optimized for viewing on a wider scale, zooming in closer than the city level will cause the heat map to disappear.
To see more information about each UNESCO site or Museum, click on the icon of your choice to see the pop-up of information.
To see more information about sites that have been deliberately targeted, click on the red "target" icons for a pop up of information on the type of attack and the violent extremist actors involved.
To see details about the terror groups controlling each area, click on a section of the heat map to examine a pop-up with the terror group details as well as funding sources.
In instances where multiple examples exist for a single coordinate area, click on the arrows in the upper right corner of the information pop-ups to see the various sites connected to that area.
Scroll too far and lose your spot? Don't worry! Just click the "Home" button on the map to get back to its original position.
Click around and explore!
LAYER: Areas Under Threat or Control of Terror Groups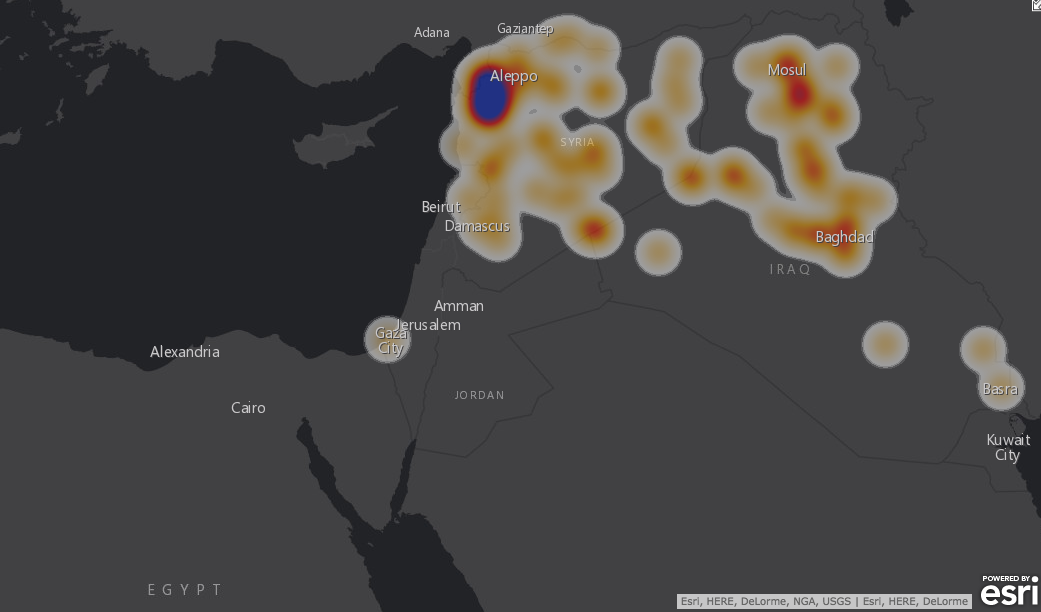 What it Displays: A heat map of areas that are under the direct control of terrorist groups or threatened by areas they have occupied between January and October 2015. Information from no earlier than 2015 was included due to the continually shifting nature of the MENA conflicts. The terrorist groups included in this map were based on terror groups as defined by the National Counterterrorism Center.
Sources of Information: Institute for Study of War (ISW), the Carter Center Syrian Conflict Mapping Project, National Counterterrorism Center and international media reports on terror-controlled territories.
LAYER: Heritage Sites Attacked, Targeted, or Destroyed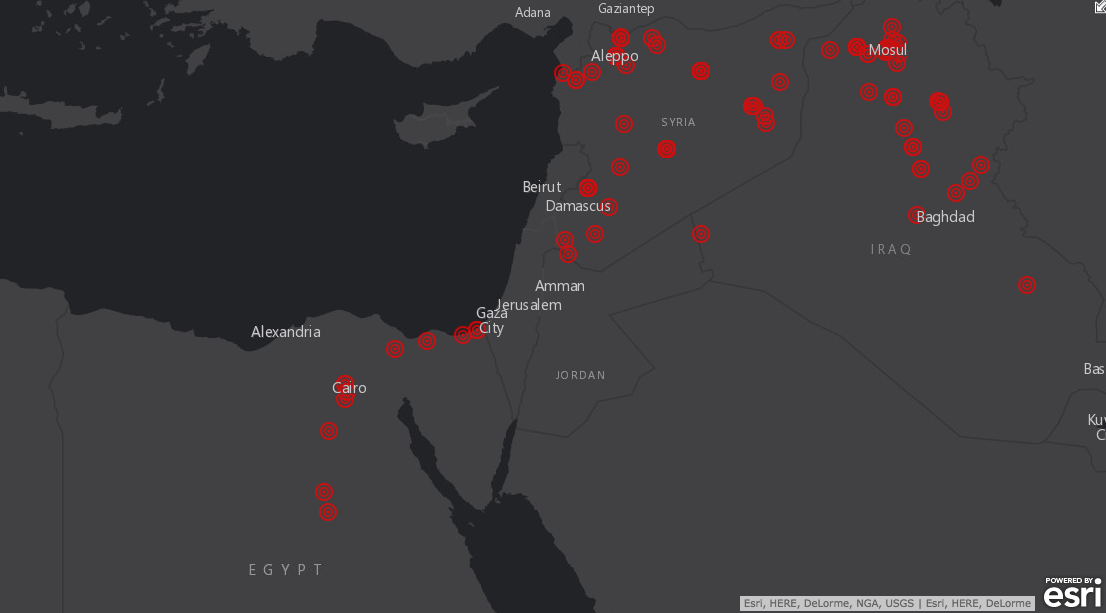 What it Displays: A map of cultural heritage sites that have been deliberately targeted for destruction, demolition, or attack by violent extremist non-state actors and organizations. This layer includes sites that have been damaged, destroyed or attacked from January 2011 to January 2016. This does not include sites that have been destroyed as a result of collateral damage in conflict.
Sources of Information: This map was developed in collaboration with Endangered Archaeology of the Middle East and North Africa (EAMENA) using reports from the ASOR Cultural Heritage Initiatives as well as the Association for the Protection of Syrian Archaeology (APSA). Additionally, reports were sourced from media and social media dating back to January 2011.
LAYER: UNESCO World Heritage and Tentative List Sites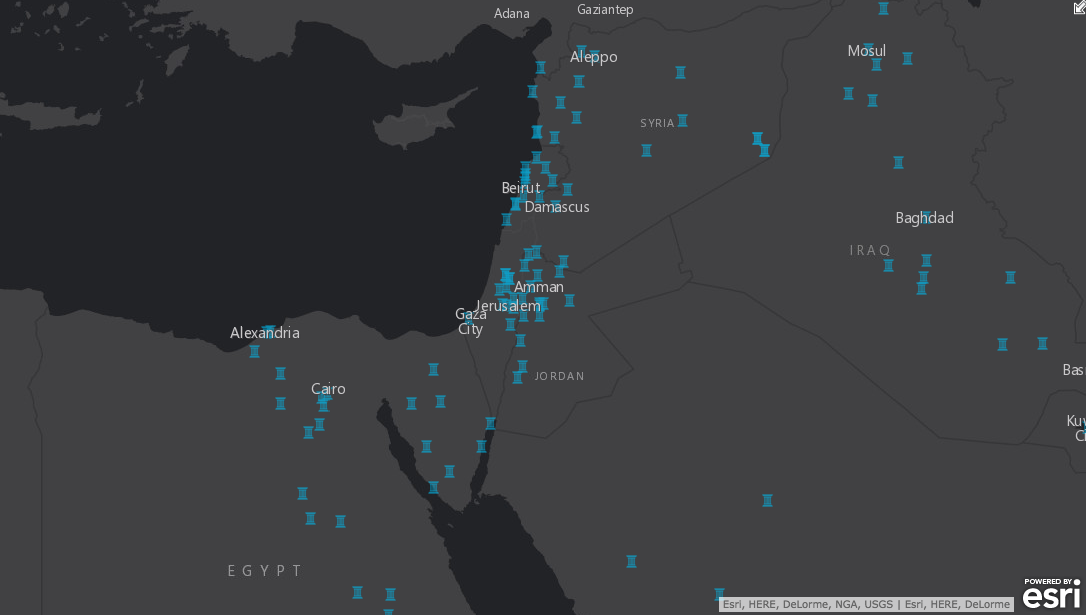 What it Displays: A complete mapping of all of the UNESCO World Heritage Listed sites and Tentatively listed sites in the Arab League states.

Source of Information: UNESCO World Heritage Center.
LAYER: Museums – Archaeology, History and Religion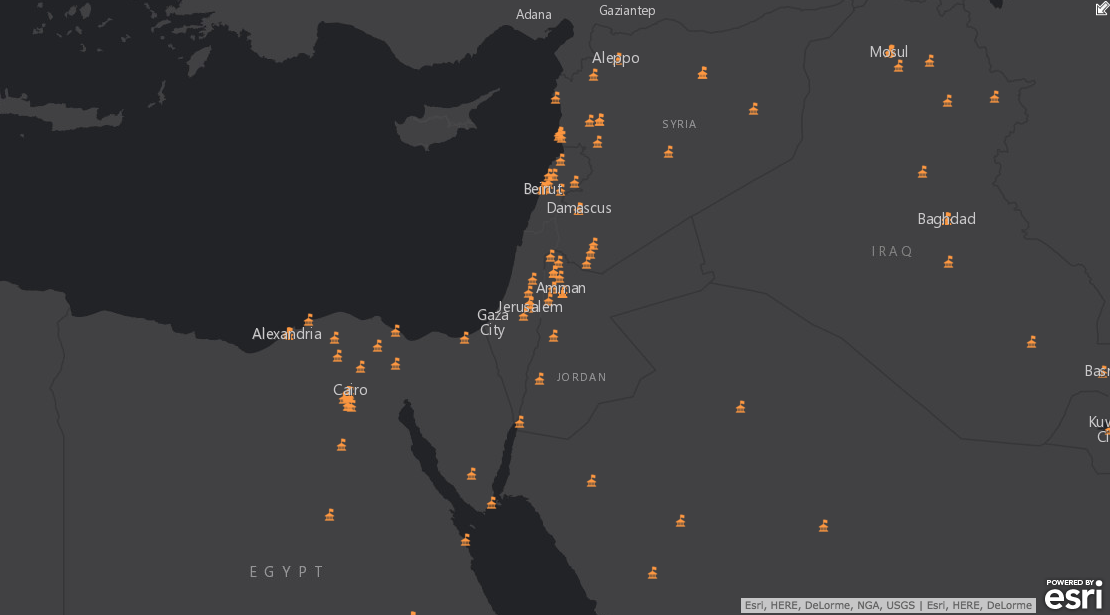 What it Displays: A mapping of local and national museums dedicated specifically to archaeology, history and/or religion within each nation of focus.
Sources of Information: The 21st Edition of the Museums of the World (2014) as well as the ministries of tourism and/or antiquities for each of the nations addressed.
Our Media on #CultureUnderThreat Maps
Incident Analyzer Wins Wichmann Innovation Award 2016 17 October 2016 The Incident Analyzer Smart M.App won the prestigious Wichmann Innovations Award 2016 for Best Software. Announced at INTERGEO in Hamburg, Germany, this Smart M.App helps [...]