Congressman Engel Calls on Treasury to Close U.S. Borders to Yemen's Blood Antiquities
January 9, 2019
On January 4, 2019, Representative Eliot Engel, Chairman of the House Foreign Affairs Committee, sent a letter to Secretary Mnuchin urging the U.S. Department of the Treasury to "use existing authorities to safeguard Yemeni cultural property — and block them from U.S. consumers and markets — by restricting the import of antiquities." Representative Engel identified these import restrictions as a way to "help prevent terrorist financing and further destruction of irreplaceable antiquities." This letter is another step in Representative Engel's proven leadership and track record of fighting terrorist financing and safeguarding cultural heritage, such as his work in 2016 to safeguard Syrian antiquities used by ISIS to fund terror.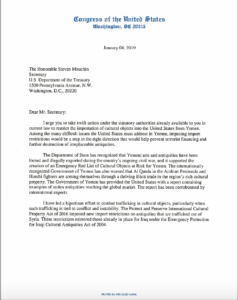 Representative Engel's call for action reinforces wider concern for Yemen's cultural heritage under threat due to civil war and looting. Last week, Deborah Lehr, Chairman of the Antiquities Coalition, and Ambassador Ahmed Awad Bin Mubarak, Yemen's ambassador to the U.S., wrote an article in the Washington Post that shared Representative Engel's concerns. In the article, Deborah Lehr and Ambassador Mubarak write that three of Yemen's major museums, the Taiz National Museum, the Aden National Museum and the National Museum of Zinjibar, "have been pillaged and largely cleared of their collections." Additionally, Deborah Lehr and Ambassador Mubarak present evidence that  "al-Qaeda in the Arabian Peninsula militants and Houthi rebels are arming their cause with the plunder and sale of Yemen's ancient treasures."
The Antiquities Coalition applauds Representative Engel's dedication to combat the looting of our world's priceless cultural heritage and fighting terrorism.