The AC Digs Into: The Painted Queen
August 24, 2017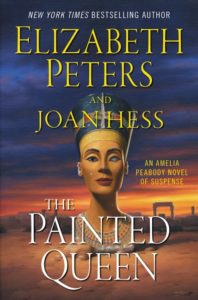 The Painted Queen brings Amelia Peabody, Egyptologist and amateur detective, and her loving husband, world famous archaeologist, Dr. Radcliff Emerson, back for one last adventure: the discovery of the bust of Queen Nefertiti.
The author, Egyptologist Dr. Barbara Mertz, under the penname Elizabeth Peters, consistently wove fascinating, detailed, and often historically accurate stories about the golden age of archaeology in Egypt, and The Painted Queen is the perfect capstone to her work. Her characters are entrancing, her depictions of the era come alive, the repertoire is engaging and witty, and while a fun read, one can't help but walk away without having learned a history lesson. Sadly, Dr. Mertz passed away before completing the book, but her good friend and fellow author, Joan Hess was able to seamlessly pick up the pen.
In this thrilling novel, Peabody and Emerson are pursued by assassins, while still successfully excavating the ancient site of Armana. As fans of the Peabody series will recall, Armana is where Peabody and Emerson first met, making this a suitable setting for the end of this captivating series.
A touching tribute accompanies the story from accomplished Egyptologist and friend of the author, Dr. Selima Ikram. "One of the great delights of the Amelia Peabody books is that in each one, Amelia combines murder, mayhem, and mystery with solid doses of Egyptology and history," she says. Dr. Ikram supported Hess in her research, ensuring that historic details and descriptions of excavation practices were accurately depicted.