The AC Digs Into: Art Crime During War
July 10, 2018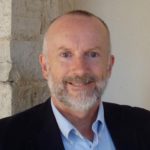 Arthur Tompkins is a District Court Judge in Wellington, New Zealand. Each summer, he teaches the "Art in War" component course as part of the Association for Research into Crimes against Art's (ARCA) postgraduate certificate program in the study of art crime and cultural heritage protection held in Umbria, Italy. Tompkins is the editor of Art Crime and Its Prevention (Lund Humphries, 2016) and is the author of Plundering Beauty: A History of Art Crime During War. You can purchase Plundering Beauty and support the Antiquities Coalition's efforts using Amazon Smile.
---
How did you become interested in art crime during war?
A series of serendipitous chance encounters; the first in a bar inside Interpol's headquarters in Lyon, France; which led to meeting the founder of the Association for Research into Crimes against Art and a chance both to contribute a chapter to a book of essays on Art Crime book and then, as I was coincidentally in the UK the week before the first ARCA Art Crime Conference in 2009 I was able both to attend and to speak at that conference; and finally at the conference dinner I was invited to start teaching Art in War at ARCA's pioneering multidisciplinary Art Crime summer programme in Umbria, Italy, the following year. Initially, I was interested in the cross-border criminal law aspects of art crime during war, but over the years my interest in art has blossomed as each year I have returned to Italy to teach my course.
What inspired you to write Plundering Beauty?
Plundering Beauty has had quite a long gestation! After a couple of years teaching my course, so I guess in about 2011 or 2012, I prepared a Proposal outlining the book, but then did nothing about that for a few years. Then in 2016 and as a result of yet another serendipitous coincidence, I was on a ship voyaging to Pitcairn Island. Also on board were an inspirational English couple, who had written numerous books and were very encouraging that I should take the plunge. So I did…
Can you speak a little to the research process for this book?
Most of the research for Plundering Beauty came from the work I did preparing my Art in War course lecture notes. In that research, I was looking for the major signposts along the long road from the "winner takes all" approach to the plunder of art during war, to the current, but imperfect and incomplete and often sadly ineffective, protection during war of art at international law. I read a lot, I brought probably far too many books, I traced the sometimes long and convoluted journey some artworks take during several wars, and I investigated the destruction, displacement, theft, and loss (and sometimes the wonderful and extraordinary survival) of art during war. But I initially had only my fairly rough and ready lecture notes – polishing and refining the text took a lot of time, as did finding the images to include. And I couldn't have done it without the remarkable team at my publishers, Lund Humphries in London, and also my wonderful copy-editor, Abigail Grater.
It's clearly difficult to cover over 2,000 years of history in less than 200 pages. What is one case you wish you had been able to include?
I wrote a chapter on the collecting and commissioning of art by King Charles I, then his collection's sale and dispersal by Cromwell's Commonwealth after the English Civil Wars, and then the partial reassembling of the collection by his son, King Charles II. It's a fascinating story and reveals a compelling backstory to many of the masterpieces hanging in some of the world's great art museums and collections. But for reasons of space, we had to leave it out.
You discuss how over centuries, plunder went from a legitimate wartime practice to a criminal act. However, as recounted in your book, cultural plunder is still a huge issue today, and legal protections for cultural property often are not sufficient. What needs to be done to better protect cultural heritage in war?
I wish I had the answer! The legal protection of art and cultural heritage, however comprehensive it might be on paper, will always be defeated by guns and bombs and violence, and malicious intent. And it has ever been thus: the very many wars covered in Plundering Beauty sadly prove that time and again. But what I think is the single most important turning pointing in the whole long history – the unexpected insistence of the Duke of Wellington, at the Congress of Vienna after the defeat of Napoleon, that the plundered art should be returned – gave and gives real substance to Cicero's fundamental idea that art belongs to all humankind. And it is that basic principle that inspires and directs and guides all the very many people who are working so hard to protect art and cultural heritage, against all the odds. So, we need to resource those efforts better, we need to aid and support the researchers and the investigators, the curators and the advocates, the tribunals, and the institutions, that support the repatriation of plundered art. And perhaps ultimately and most importantly we need to reduce the market demand for plundered art so that the plunders cannot find, anywhere, a buyer, a market or a safe haven.
What is one place (museum, archaeological site, historic center) you think everyone should see?
For me, the Campo di Ghetto Nuovo in Venice resonates on many levels. There is a haunting and powerful Holocaust Memorial there, and the campo itself, and the surrounding buildings and community is quiet and reflective, almost serene despite its history. But if I'm there I'm also in Venice, a city that has been involved in many of the significant events in the long history of the plunder of art during war – from the Fourth Crusade to Napoleon to World War II and the Holocaust. So a visit is always memorable and moving and worthwhile.