Archaeology Channel Conference Explores Relationship Between Media and Cultural Heritage
May 15, 2017
Archaeology Channel Conference Explores Relationship Between Media and Cultural Heritage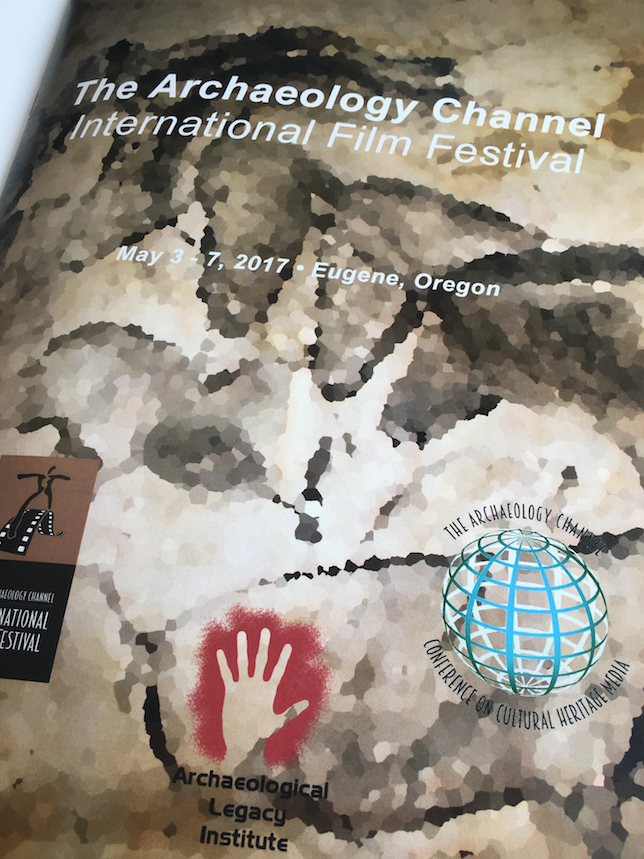 The fourteenth annual Archaeology Channel Conference on Cultural Heritage Media met in Eugene, Oregon from May 3-7. The conference series initially began as an extension of The Archaeology Channel website, designed to cater to live audiences, but it has now grown into an international cultural heritage film festival. The conference shines a light on the importance of the relationship between cultural heritage and media, whether through informative films on heritage, new technology and media as a means of preservation, or media as a tool for research and understanding of contemporary cultural heritage issues. The Antiquities Coalition was delighted to be asked to present at this important event.
The relationship between media and cultural heritage preservation both in the protection and promotion of its protection was a theme woven throughout the conference presentations.
Keynote speaker Dr. Christopher Thornton, Lead Program Officer of Research, Conservation, and Exploration at the National Geographic Society and the Director of Excavations at the UNESCO World Heritage Site of Bat in the Sultanate of Oman. Exemplifies this interconnection.   His research and archaeological work in Oman, as well as beginnings as an archaeologist eventually qualified him to take on the role as Director of Cultural Heritage for the National Geographic Society where he promotes the science through raising awareness through the various Nat Geo media platforms.  His stories from the field and from his desk in Washington show that opportunities in archaeology and cultural heritage aren't limited to just the classroom or the dig. Whether working in a university or promoting Explorers for the National Geographic Society, storytelling is a vital component of educating the public on the importance of cultural heritage and advocating for its protection.
Dr. Juan Aguilar of Heidelberg University in Germany explored the way technology can preserve rock art in Iraqi Kurdistan, both for archival purposes and for public education, awareness, and advocacy.  The ancient rock art in Iraqi Kurdistan faces a number of threats including conflict, vandalism, and looting. Dr. Aguilar and his team used drones and Digital single-lens reflex camera (DSLR) to record and develop high-resolution 3D models of threatened rock art.
The team enhanced imagery to recover lost features of the rock art that had been damaged as a result of militant target practice, graffiti and vandalism, and dynamite damage from attempted looting. Using drones and DSLR the Heidelberg University team is developing 3D renderings of rock art regions to create an immersive 3D experience for the digital exploration of art that is otherwise inaccessible to many due to ongoing conflict in the surrounding region and nearby Mosul. This is not only helping the local government of Iraqi Kurdistan preserve these valuable images before they are destroyed by a variety of threats from human or natural causes, but also creating a mechanism to educate the local population and greater public about the importance of preserving the rock art of the region. The Heidelberg University team developed a short documentary entitled Rock Art Project to chronicle on their efforts in Iraqi Kurdistan.
While technology can serve as an important tool for preservation of endangered cultural heritage, the stories of the people and process of preserving heritage can also help inspire efforts at protection.  Joseph Daniel of Story Arts Media in Boulder, Colorado was inspired to film Saving Places, a docu-series following the work of a nation-wide group of historic preservation volunteers called HistoriCorps.  These everyday citizens use their vacations to join a force of historic preservation enthusiasts who volunteer their time to preserve some of America's historic hidden gems.  Using drones and GoPros, Daniel captured a touching series of stories following a series of projects led by HistoriCorps volunteers.  Inspired conference attendees picked up their phones to Google how they could join the effort. Learn how you can join here.
From work at the sites and TV series to movies, the conference featured a panel on a documentary project to find the lost Ancient Egyptian city of Cecil DeMille's 1923 silent film, "The Ten Commandments" movie set in the Guadalupe Dunes of California. The documentary The Lost City of Cecil B. DeMille follows the experts, archaeologists, and local officials who sought Art Deco Egyptian treasures in the local California protected park.  In the early 1980's a group of film students read the biography of DeMille, which described how he abandoned the dazzling Art Deco movie set in the Dunes on California's coast and that the set remained buried in the sand. Doug Jenzen of the Guadalupe-Nipomo Dunes Center and Colleen Hamilton, a senior historical archaeologist with Applied EarthWorks, discuss how the revelation by these film students set in motion an adventure to recover the ruins of old Hollywood before they are lost forever.
Park protections, shifting weather, and human interference presented many of the same challenges Egyptologists face in their own work half a world away.  The team successfully recovered the frame and façade of one of the sphinxes depicted in DeMille's film, along with artifacts from the 1923 cast, fragments of cast tents and more – all pieces of Hollywood history born out of America's fascination with Ancient Egypt.  When word of the unique discovery reached the media it became an international sensation, the local Guadalupe-Nipomo Dunes Center exhibition of the finds became the most successful in its history. But media attention also brought about a new set of problems. Locals seeking to find their own piece of Hollywood's ancient Egypt have threatened the protected park's site.  Pieces from the set and cast area began surfacing on eBay, the project team even saw Instagram images at the site with #Trespassing. The interest in Hollywood and local rush of Egyptomania spurred a flurry of human interference to a site that was once only visited by the local population of roughly 7,000.
The connection between social media and looting activity as seen in the Guadalupe Dunes scenario above is evident in cultural racketeering activity in Egypt.  Antiquities Coalition's Katie Paul highlighted some of these connections in her study on the examination of the patterns and trends of cultural racketeering in Egypt by using media and social media as a source. Using media that is coming out in real time helps understand patterns in the illicit trafficking of antiquities that can help governments allocate their scant resources in the most effective manner to combat looting. Social media has proven to be a major means of information sharing in Egypt and the Middle East and North African region. Graphing the data collected from the analysis of these on-the-ground reports provides a glimpse into the patterns that have emerged and the methods of operation for various types of looting and smuggling networks within Egypt.
Culture is under threat from natural and human challenges alike across the globe, and the looting and trafficking of cultural material has posed one of the greatest among these threats. But through the use of technology, film, media, and social media, archaeologists and story-tellers alike can contribute to preserving and protecting our valued past.  Media is not only a critical tool for understanding patterns and recording heritage before it's gone, but also a means of raising public awareness and advocating for protection. In discussing the value of excavating Cecil DeMille's lost city, Doug Jenzen noted that public interest in film is a cultural universal shared across the world, by capitalizing on that cultural universal, heritage advocates can continue to use technology and work with media to inform the public on how they can protect and preserve history.