Antiquities Coalition Initiative Supports Egypt's Museums in Securing Priceless Patrimony
November 30, 2015
Antiquities Coalition Initiative Supports Egypt's Museums in Securing Priceless Patrimony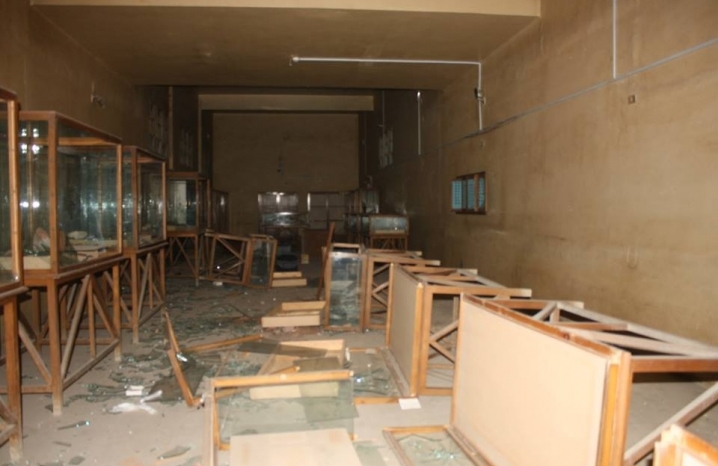 NEW YORK, NY.- The Antiquities Coalition and American Research Center in Egypt (ARCE) are working with the Egyptian Ministry of Antiquities' to secure the nation's ancient legacy through 21st century technology that will document the complete holdings of its museums in a digital registry. In collaboration with international partners, they will design and implement a museum registrar training program for Ministry staff to bring state-of-the-art best practices to a professional cadre of Egyptians tasked with securing and preserving the nation's unparalleled patrimony.
The project is the foundational step toward a comprehensive system of increased security, staff capacity building, and technological innovations to document the vast antiquities collections of multiple museums. A major target of looters since the 2011 Revolution, Egypt's collections deserve a gold-standard system to assist government and law enforcement officials in identifying objects that belong to Egypt.
"This project is invaluable, because it aims to establish standard documentation and collections management procedures for the entire Ministry of Antiquities (MoA), building upon ARCE's successful Egyptian Museum Registrar Training Project," said Minister of Antiquities Mamdouh El-Damaty. "The project will ensure that MoA staff is trained, according to international standards, to document museum collections and be able to transfer their knowledge to others. We look forward to cooperating with ARCE and the Antiquities Coalition in this exciting initiative."
The project will be housed at the National Museum of Egyptian Civilization, a 130-acre complex on the archaeological site of El Fustat in Cairo, which tells the story of the Nile Delta region from prehistoric times to present day. In addition to the Ministry, project partners include the world-renowned British Museum, who will also be training early-career archaeologists in the digital documentation of artifacts.
"This collaboration is a key outcome of the historic 2014 public private partnership between the Antiquities Coalition and the Arab Republic of Egypt, as well as the 2015 Cairo Declaration, in which ten nations pledged to work across borders to preserve the region's irreplaceable heritage," said Deborah Lehr, Chairman of the Antiquities Coalition. "Registries are a proven solution in the fight against cultural racketeering, and we look forward to supporting our Egyptian partners in this endeavor as well as the broader fight against antiquities trafficking."
"This proposed initiative builds on ARCE's successful project to establish a registrars department at the Egyptian Museum," said ARCE's Director Dr. Gerry Scott. "ARCE's Egyptian Museum Registrar Training Project created a database of the museum's collection and trained registrars in best practices with a focus on object documentation and inventory. Since the completion of the project, the Egyptian Museum registrars have been instrumental in providing training on museum collections database management to not only the curatorial staff at the Egyptian Museum, but to others in the museum sector in Cairo."
Registries are a core resource for museums worldwide. They include basic information about each object in the collection, including material, description, location and provenance. They also provide a critical level of security, as an inventory of objects, an index to objects' location, and through written and photographic records of each collection object. All this data is consolidated in a digital collections management system for each museum.
Increasing the number of well-trained registrars increases operational capacity for collections management implementation. It also serves as a "train the trainers" initiative. New registrars will train other Ministry and museum personnel in data management, photographic documentation, and collections management, accelerating the project's benefits to a broader constituency.
"By training registrars and building this technological infrastructure, we are putting best practice into place," said Peter Herdrich, Co-Founder of the Antiquities Coalition. "By building capacity for the Ministry and insuring interoperability on the tech side, we can make a great contribution to Egypt's cultural heritage."
Beyond recovery of stolen treasures, the national registry will promote the educational value of Egypt's collections for students and scholars alike. It will also contribute to economic development through enhanced tourism opportunities, as such thorough documentation will enable people around the world to engage with the history and heritage of Egypt.
Art Daily is the first online art newspaper established in 1996.
This article is cross-posted from the Art Daily article "Antiquities Coalition Initiative Supports Egypt's Museums in Securing Priceless Patrimony".
PDF of the article here.