Antiquities Coalition Commends Bold Action Of U.S. Government In The Fight Against Terrorism
December 15, 2016
Department of Justice Seeks Forfeiture of Looted Antiquities by Daesh
In a historic step, the U.S. government is requesting the forfeiture of antiquities associated with the terrorist organization, ISIL, also known as Daesh. It is the first time that the U.S. government has used its authority to seek the forfeiture of antiquities from a terrorist organization. Under United States law, all assets, foreign or domestic, of a terrorist or terrorist organization, and all assets, foreign or domestic, affording a source of influence over any such entity or organization, are subject to forfeiture.
The Antiquities Coalition commends the U.S. Department of Justice and the Federal Bureau of Investigations for their bold step in filing this lawsuit.
"This complaint demonstrates the United States government's intent to diligently pursue actions that will limit the ability of ISIL and other terrorist organizations to generate revenue," said Channing D. Phillips, U.S. Attorney for the District of Columbia. "This complaint also serves as a warning to those who traffic in precious antiquities and who seek to profiteer from ISIL's exploitation of the cultural heritage of areas under its control."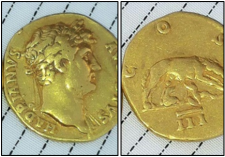 "The documents unsealed today reveal that ISIL specifically directed its members to steal archaeological objects for purposes of selling them on the black market in order to use the proceeds to support this designated terrorist organization," said Paul M. Abbate, Assistant Director in Charge of the FBI's Washington Field Office. "ISIL members extorted and threatened to arrest anyone outside of the terrorist organization who attempted to excavate, sell or transport antiquities from the territory under their control. It is essential for the FBI to recover these items so that we can stop the illegal flow of funds to support terrorist activity and repatriate these historical treasures."
The government is sending a clear message that the United States is willing – and able – to take strong action to support countries under threat from terrorists who are using the trafficking of antiquities to fund their black causes. As the largest market in the world for art and antiquities, museums, collectors and other purchases in the United States must be on high alert to prevent the purchase of illicit antiquities from these conflict zones.
Read the DOJ Release on Complaint HERE
Read Stamped Complaint HERE