AC in the News: Beware Coronavirus "Rush to Sell" Looted Artifacts, Founder Deborah Lehr Warns in The Art Newspaper
May 7, 2020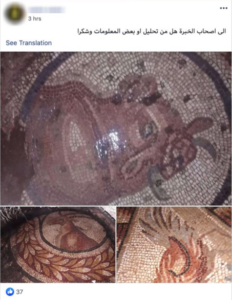 While the coronavirus crisis shutters legitimate businesses and cultural sites around the globe, the international black market stays open — and criminals want to move stolen antiquities. Since the outset of the COVID-19 outbreak, Facebook groups that serve as trafficking hotbeds have seen an uptick in posts about looted artifacts from the Middle East and North Africa.
Sadly, we have observed this type of "rush to sell" before, Antiquities Coalition Founder Deborah Lehr told The Art Newspaper. Economic upheaval can trigger such urgency from sellers in the legitimate art market and illicit trade. The cases of the 2008 financial crisis and Arab Spring illustrate this phenomenon's economic causes. "What was different from 2008 versus the Arab Spring is that we didn't see the social instability that came with the Arab Spring so the economic crisis was happening but there wasn't the breakdown of governance structures also," said Lehr. 
So, what should potential buyers expect? More looting, and more looted artifacts on the market. During the Arab Spring, "there was a lull, there was opportunistic looting of museums and storage units, and then we saw more organized looting begin," Lehr explained. The coming months will likely see the same activity. Unless the antiquities in your shopping cart come with a very clear provenance, avoid buying right now, Lehr warns.
For more information on the coronavirus's threat to cultural heritage, read the full story
here
.