Curbing the illicit trafficking of cultural property : focusing on countries of transition and the application of criminal justice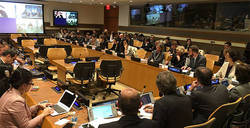 On Thursday 28 April 2016, the Permanent Missions of Jordan and Italy to the United Nations, together with UNESCO, INTERPOL, and UNODC, organized an expert meeting on the illicit trafficking of cultural property in transit countries. This meeting was organized within the partnership initiative "Protecting Cultural Heritage – an Imperative for Humanity: Acting together against the destruction and trafficking of cultural property by terrorist groups and organized crime".
The meeting was chaired by the Ambassador H.E. Dina Kawar (Jordan) and Ambassador H.E. Sebastiano Cardi (Italy), with the participation, among others, of permanent representatives of Member States, representatives of UNESCO, INTERPOL, UNODC, WCO, the UN Sanctions Monitoring Team, as well as the Metropolitan Museum, the Antiquities Coalition and the Carabinieri.
UNESCO's role in fighting against the illicit trafficking of cultural property was highlighted by a number of participants. Some referred to the recent initiative to create a High Level interagency Task Force for the protection of cultural heritage at UNESCO, while others commended the #UNITE4Heritage Campaign. Furthermore, the importance of global ratification and implementation of the 1970 UNESCO Conventionand the 1995 UNIDROIT Convention, two essential instruments for the return and restitution of cultural property, was emphasized. Additionally, participants advocated for the most efficient use of UNESCO Export Model Certificate.
The discussions focussed on the concerted efforts to prevent illicit trafficking, by strengthening international cooperation with respect to law enforcement and criminal prosecution.  In this context, participants underlined the importance for specialization and training of law enforcement authorities in investigations of illicitly trafficked cultural property as well as the efficient implementation of national and international laws. Participants also stressed the need to ensure proper border and customs control, and to share data in a timely manner.  Likewise, an appeal was made to make the best use of existing bilateral agreements and to continue efforts in raising awareness around the issue of illicit trafficking of cultural property and the links with the financing of terrorist and criminal groups.
A number of Member States shared their national practices in the legislation and policy domains such as existing and upcoming legislation initiatives, lessons learned; good practices and others.
This meeting is a follow up in a series of round tables organized by the Permanent Missions of Jordan and Italy, in collaboration with UNESCO, INTERPOL and UNODC, and will conclude by a High Level Meeting during the annual General Debate of the UN General Assembly next September 2016. 
Click here for more detailed information on the first meeting addressing the illicit trafficking of cultural property at the end of the market chain.
The third meeting on prevention of the destruction of  cultural heritage  and illicit trafficking of cultural property in countries of origin is scheduled to take place on 27 May 2016 at the UN Headquarters.
PDF of article here